Google AdSense is one of the most popular and high-performing ad networks available. Launched in 2003, for website owners looking to monetize their site it's often the go-to choice.
But they're not the only advertising network and depending on your site, it might not even be the most suitable option.
Here are the top 5 reasons site owners look for alternatives to Google AdSense.
5 Reasons To Find an Alternative to Google AdSense
Your account was rejected (the most common issue is operating in a niche that's not permitted)
You want to diversify your income streams (just watch whether running other ads breaches AdSense policy)
Your site was banned for breaching one of their numerous rules
The website is too new (anything under 6 months old is likely to be rejected)
CPC is too low
Whether AdSense isn't an option for you or you're looking to diversify your income stream, there's an alternative advertising network to suit you.
Let's take a look at 15 other advertising networks to monetize your site.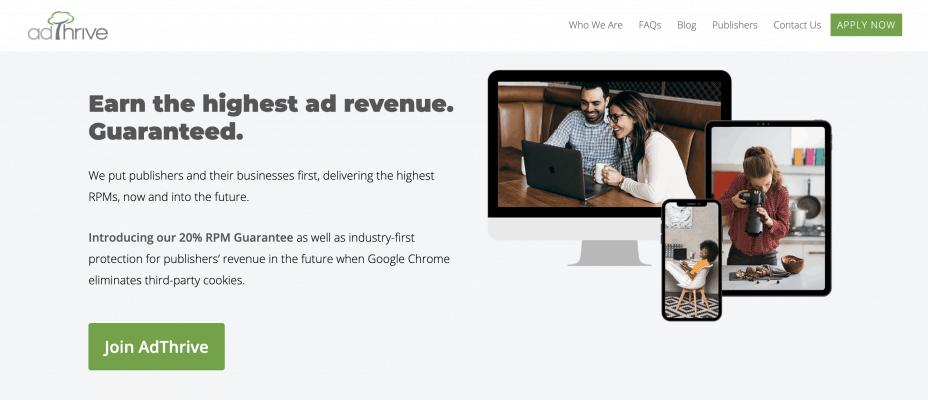 An ad network dedicated to bloggers, AdThrive works with site owners to develop monetization strategies that pay off (or rather pay out!).
Operating on a cost-per-impression basis, it coordinates with both publishers and advertisers to ensure high-quality ads are shown on high-quality sites.
One of the ad networks' biggest draws for bloggers is its payment guarantee. Not only do publishers receive a 75% payout, but AdThrive promises to deliver payments on time and in full even if advertisers are late paying.
One of the most popular alternatives to Google AdSense for blogging sites, it maintains some seriously high standards. Sites must receive a minimum of 100,000 monthly pageviews and have traffic coming from primarily the US.
You'll also need Google Analytics installed on your site but really that's just good practice anyway!
With a minimum payout of $25 via PayPal, for established sites, it's an excellent option.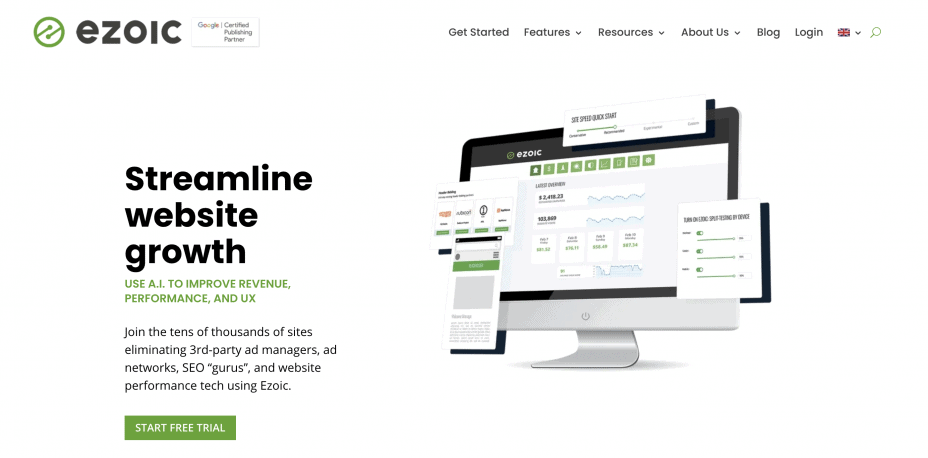 A good option for sites that don't meet the primarily US-based traffic requirements of AdThrive and Mediavine, Ezoic offers more geographically diversified ads and a minimum payout of $20.
Much like AdThrive, Ezoic is a Google Certified Publishing Partner but has a much lower monthly traffic requirement (10,000).
It uses machine learning to find the highest-earning ad configurations and allows you to choose goals and set up testing locations for more control.
While many consider it the stepping stone to Adthrive, Ezoic is also a solid standalone solution for sites looking to monetize thanks to its global advertiser network, easy-to-use dashboard, and helpful customer service.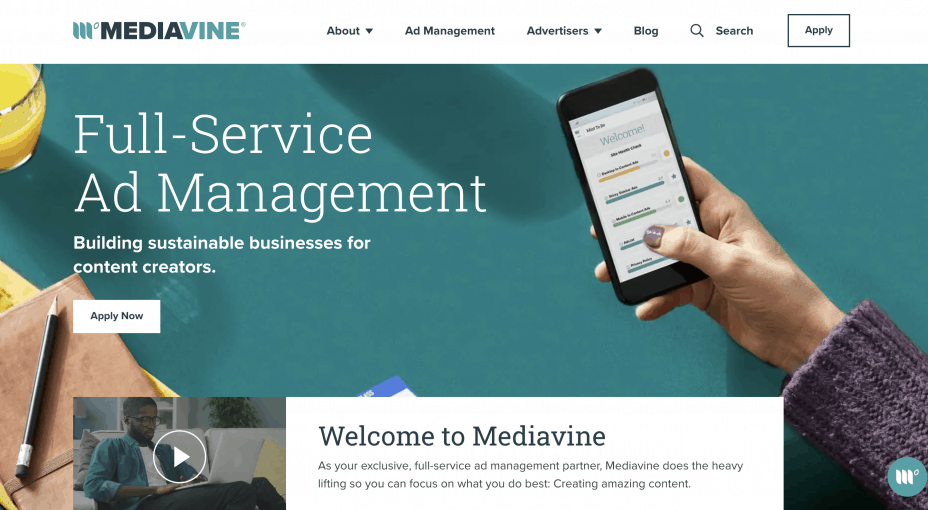 Similar to AdThrive, Mediavine offers publishers a 75% revenue share and highly-tailored ad placements.
One of the biggest differences is that Mediavine only requires 50k monthly page views compared to AdThrive (100,000 page views). For smaller but still established sites, Mediavine is a strong contender.
The ad network primarily works with a large pool of lifestyle advertisers so, for content sites operating lifestyle-related niches, Mediavine takes the edge over its competitors.
Founded by bloggers, the ad network prides itself on bringing transparency and quality to its service.
With a minimum payout of $25 via PayPal and direct deposit (increasing to $200 for international direct debits), Mediavine is a good choice for lifestyle content sites with a steady stream of traffic.
Media.net is one of AdSense's direct competitors. Run by Yahoo! Bing Network you get exclusive access to their search volumes making it one of the largest contextual ad networks available.
Used by household names around the world (Forbes, NY Times, WebMD, etc), Media.net runs contextual ads so only those related to your content will appear.
One of the main benefits they offer is the range of customizable ad layouts giving you the opportunity to improve the overall user experience by blending them into your site.
With reports of excellent customer service and higher RPM than Google AdSense, Media.net is a popular alternative for those looking to target a wider search volume than Google alone.
For lower trafficked sites it's worth noting that the minimum payout is $100 via Payoneer.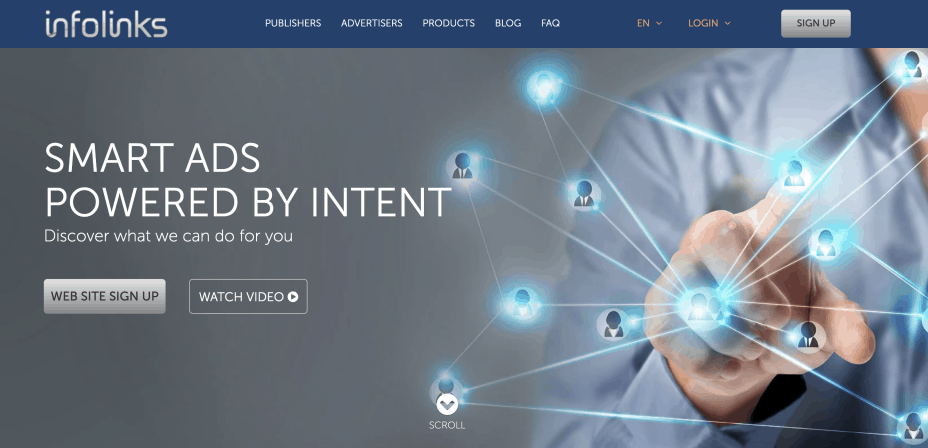 The 3rd largest advertising platform in the world, Infolinks is popular with both publishers and advertisers. With a unique ability to deliver intent-driven ads in real-time, it offers excellent CTR.
For content sites, it is a solid option offering various ad types that help to preserve the integrity and overall look of the site.
Ad types include:
InText
InFold
InScreen
InTag
InFrame
With a low minimum payout ($50), no set-up fees, and no minimum traffic requirements it's an accessible and effective alternative to AdSense.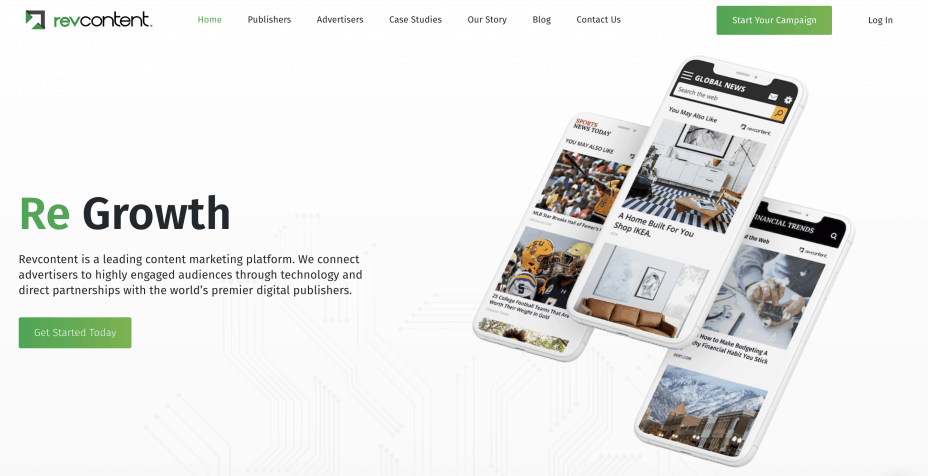 Revcontent is known for its high-quality ads and straightforward approval process, making it a popular Google AdSense alternative.
Running native ads (the sponsored stories at the bottom of news articles), it's a good option for sites publishing regular news content as it allows you to maintain the overall look and feel of the site.
The strict minimum traffic rules (50k+ p/m) make it an unsuitable option for new or smaller sites but if you fit their criteria you can benefit from access to a wide network of advertisers and good CPCs (between 1-10 cents per click).
With a relatively low minimum payout ($50) and the flexibility to pick which ads to display, for the right sites, Revcontent is a good option.
7. Sovrn (formally VigLink)
Sovrn allows website owners to generate passive revenue by converting regular links into affiliate links. This method puts you in demand as advertisers compete for your traffic so there's potential for better prices than other ad networks.
With access to in-depth insights via the dashboard, it's easy to determine which products/advertisers earn you the most money so you can optimize accordingly. An automated process, you're free to focus on producing high-quality content instead.
It's a multi-network platform so there's an opportunity to connect with thousands of affiliate programs at once.
The minimum payout is just $10 and can be done via PayPal and with no traffic requirements, it's a good option for those getting started.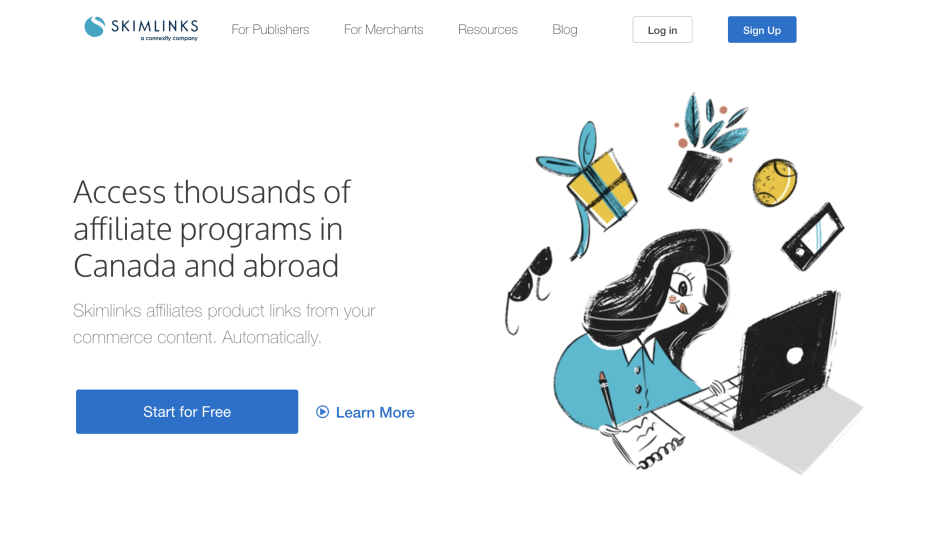 Similar to Sovrn, Skimlinks automates the affiliation process so website owners can focus on creating content. It's one of the leading content monetization platforms available for web publishers.
With access to over 48,500 merchants and 50 exclusive partners, you're tapping into a global network with Skimlinks.
For those in the VIP and Preferred Partner Program, there's a chance to earn higher commission rates too.
Sites must meet the publisher's network requirements and have no fraud or spam flags to qualify.
With minimum payouts set at $10 and available via PayPal, bank deposits, or cheques, for those looking to automate their affiliate linking it's a good option.
Just note that the relationship is dissolved and payments canceled if there's ever a case (or suspected case) of fraud.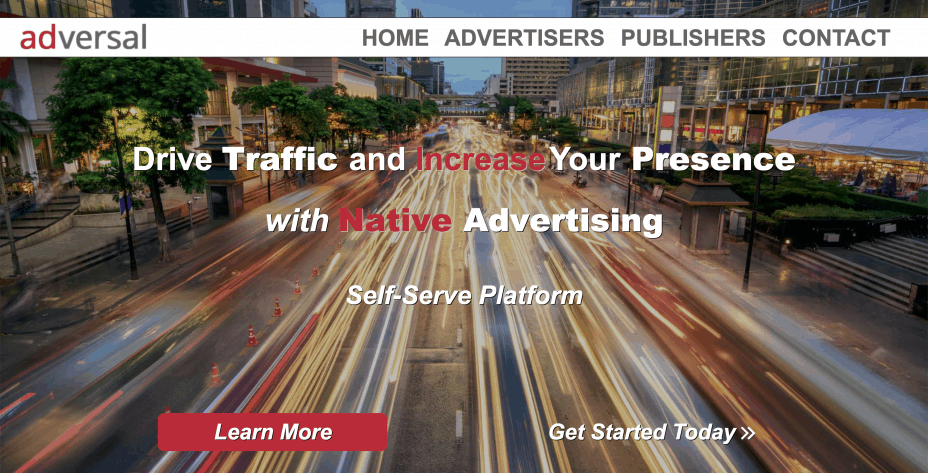 With a good record of CTR and compatibility across several languages, Adversal is a serious competitor to Google Adsense. The self-serve advertising platform offers both banner and pop ads.
Not the best option for smaller sites, you must have at least 50,000 page views a month to apply. But for those that meet the requirements, the smart interface makes it easy to control campaigns allowing users to start, stop and pause them for full control.
For sites that failed the AdSense approval process or have been hit with a ban, Bidvertiser is the next best thing. With instant approval, it's possible to monetize your site in minutes.
However, revenue might be a little slower coming in as Bidvertiser operates a bidding system (hence the name!) and it may take time for your site to be found by the highest bidders. If you're willing to wait, it's a good option and has a minimum payout of $10.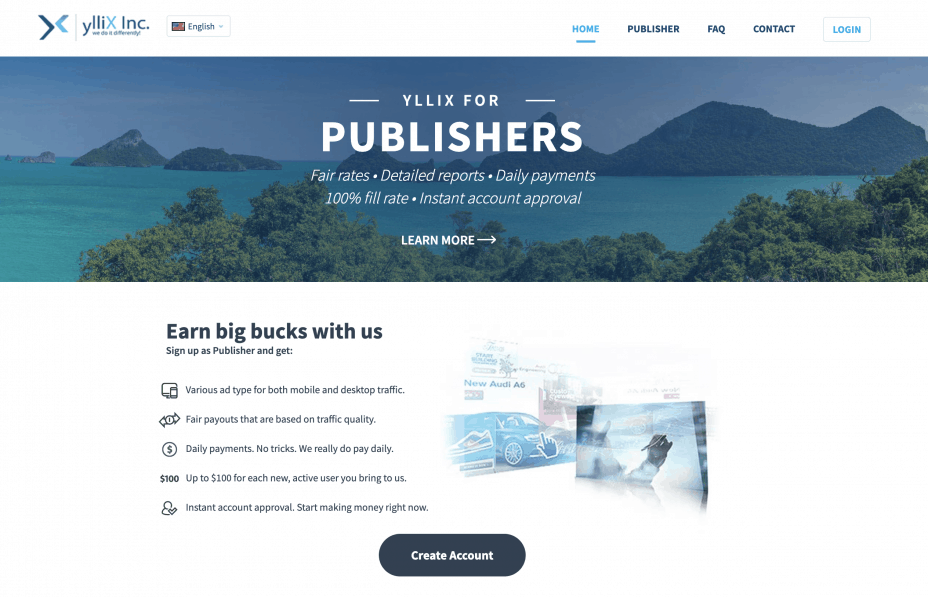 For those looking for slightly better pay rates than Google AdSense, ylliX could be a good option. An advertising network offering various ad types, its biggest selling point is the instant account approval process.
Offering a 100% fill rate, detailed reports, and daily payment options, yilliX gives you complete control over campaigns via the self-service platform. Unlike with some ad networks, traffic comes only from verified sources to increase the chances of conversion.
There's also a pretty hefty referral program that pays out $100 for each new publisher or advertiser you refer and gives you 2% of their lifetime earnings or spend. It's not just your site that earns you money.
A premium ad network for both publishers and advertisers, Adsterra offers some of the highest CPM rates and is one of the best alternatives to Google AdSense available.
Ad types include
Display banners
Popunders
Direct links
Sliders
Push up ads
One of the few ad networks to offer payouts via Bitcoin alongside the standard methods, minimum payouts are $100 ($5 for Paxum) making it less accessible for smaller sites.
For those with high traffic numbers, it's an excellent option and gives you global coverage and ad formats compatible with multiple devices.
13. Amazon Native Ads
Amazon Affiliates is one of the most recognized affiliate programs in the world but the Amazon Native Shopping Ads are another good option.
Operating in a similar way to AdSense, it shows ads of relevant products that match to keywords on the page.
Easy to implement, ads are split into three categories
Recommendation ads
Search ads
Custom ads
Revenue is earned from purchases made via the link, there are no minimum traffic requirements to get approved, and the minimum payout is $25 making it's a great option for smaller sites.
Monumetric (formally The Blogger Network) is a full-service ad revenue partner.
If you're looking for a way to monetize your site but want to maintain UX, this could be the option for you.
Unlike some alternatives to Google AdSense, Monumetric uses CPM not CPC so every impression counts. Supposedly offering some of the best CPM campaign pay rates, some users report earning more than with Google AdSense.
However, minimum traffic requirements are set at 10k monthly views and there's a 99% setup fee for anything between 10k–80k so you need to be sure of your numbers before getting on board.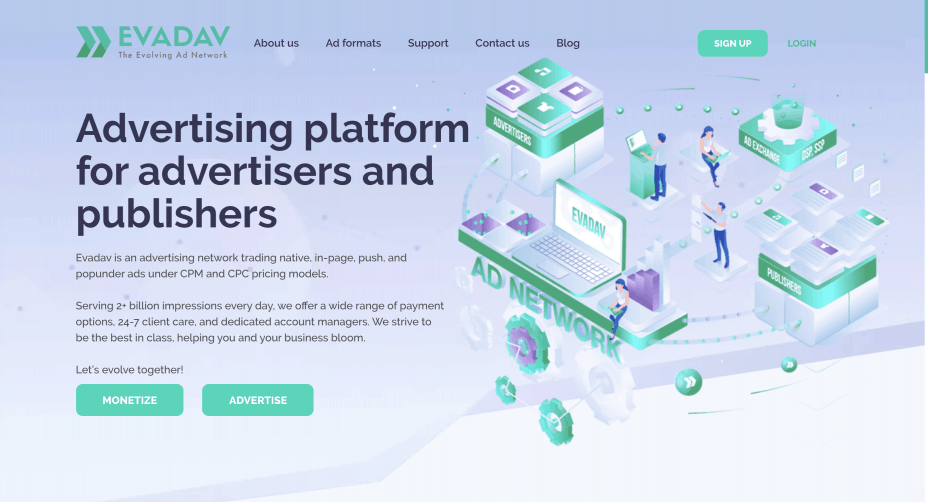 The last on our list of alternatives to Google AdSense, Evadav is an ad network that primarily focuses on push notifications (they also offer banners, video sliders, and native ads for both desktop and mobile).
Daily income is earned from each sign-up as users remain connected to your account so income is consistent.
With brand-safe ads and high-quality traffic, Evadav offers a relatively hands-off approach to advertising. Ad units can be customized to fit your site's design and the weekly payment schedule is particularly helpful for publishers with low traffic.
Whatever monetization methods you use, if you're looking to sell your site Investors Club can help. We charge the lowest seller fees in the industry so your hard work is rewarded with more money in your pocket. Discover how Investors Club can take the hassle out of selling your website today.
Hannah is a content marketing specialist at Investors Club and a freelance copywriter. When she's not busy behind the keyboard, you'll find her baking her signature salted caramel brownies or trying to sink that elusive hole-in-one.