Amazon is the world's largest online retailer. There's almost nothing you can't buy through the eCommerce giant, which makes its Amazon Associates affiliate network so popular.
But thanks to massive commission cuts of up to 80% in 2020, it's no longer the most lucrative option.
It still has its perks, such as commissions on the whole basket and not just the item your link directed them to, but the cons outweigh the pros for many sites.
Whether you're tired of being at the mercy of Amazon's spontaneous commission cuts, have fallen foul of their regulations, or are simply looking to boost revenue, then these 12 Amazon affiliate program alternatives could be for you. 
Read on to find out how to get higher commission rates, longer affiliate cookie duration, and more freedom for your site.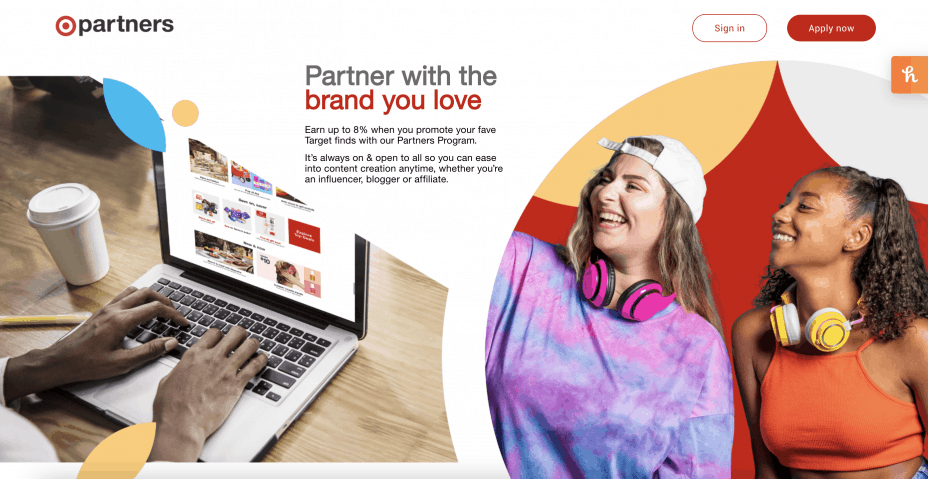 Target is one of Amazon's biggest competitors in the US. Much like the eCommerce giant, Target offers a wide range of products making its affiliate program accessible to a growing number of niches.
Target Affiliates offers competitive commission rates across the entire store but has a slightly more complicated payment structure than some other alternatives. For health and beauty products, the commission is fixed at 1%. But, for other categories, the percentage of the sale value you receive depends on the number of referrals you generate and the product. Baby gear and furniture can see anything from 3-5% for those selling more than 10,001 units/month, while home and outdoor living, apparel, and accessories generate between 5-8%.
For sites operating in the fitness niche, this Amazon Associates alternative isn't the most suitable. It also doesn't have the same generous cookie duration as others on this list. If a customer doesn't convert within seven days of clicking your link, you don't get paid. It's worth noting, though, that this is still a step up from Amazon's 24-hour cookie duration.
With the ability to earn commission immediately and one of the most generous commission schemes available, eBay's affiliate program is an excellent option. The eBay Partner Network allows you to earn commissions from North America and Europe's 2nd largest eCommerce network.
As eBay operates as a platform for third-party sales rather than handling the goods themselves, affiliates receive a percentage of the auction/seller fees rather than the actual sale. That being said, the terms are still very generous. Commissions for fashion items sit at 4%, while home and garden ware command 3%. As for everything else, that's 4% too.
In addition, new affiliates receive double commissions in their first three months, and you can earn a 100% commission bonus for referring new eBay purchasers.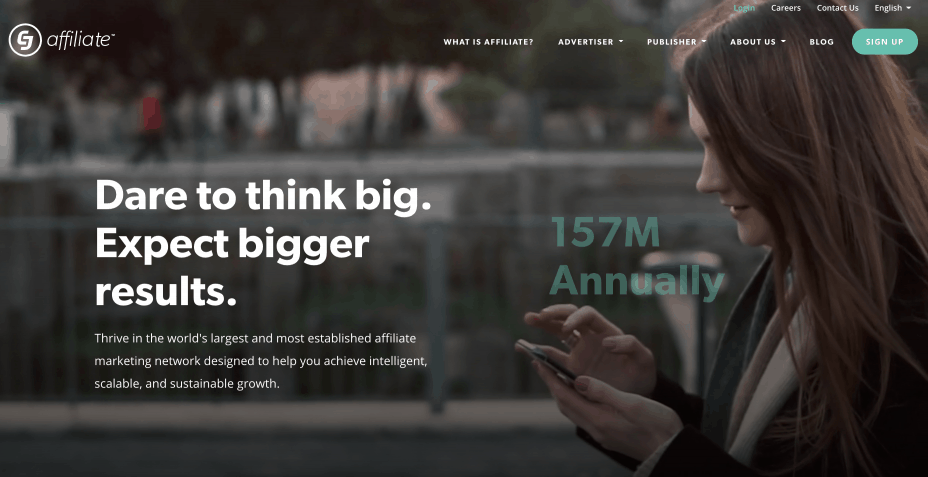 CJ Affiliates is one of the oldest affiliate networks around, and current annual publisher commissions top $1.8 billion. For bloggers, hotel offer sites, or travel deal sites, this alternative to Amazon's affiliate program could be a better option.
As an affiliate network, it connects you to top-selling brands worldwide, including Lowe's, Barnes & Noble, and GoPro. Brands set their own commission rate, and it's up to you then to decide whether you want to accept them or not. With access to real-time analytics and highly intuitive software, it's easy to navigate the different selling options. And, if you have 10k+ page views a month, you qualify for the CJ Affiliates Content Certified program, which gives you access to increased commissions and other perks.
For access to more than 15,200 niche and up-and-coming advertisers, ShareASale is a good option for sites of all sizes. Affiliates earned a total of $915 million in 2020, proving that there's money to be made outside of Amazon too. And by going smaller, you avoid some of the more restrictive rules of big brand partnerships.
ShareASale is particularly popular with traditional affiliate marketers, vloggers, bloggers, podcasters, website owners, and social media influencers. With access to easy-to-understand reports, you can track how much money you're making, and the payment dates through the platform. With a substantial 12-month cookie duration (remember, Amazon Associates' is 24 hours), there's plenty of opportunities to earn money from referrals.
One of the leading content monetization platforms around, Skimlinks offers access to 48,500 advertisers and more than 50 affiliate networks. Big names include Conde Nast, Huffington Post, and MailOnline.
Again, commission rates depend on the advertiser, but Skimlinks prides itself on offering higher commission rates than other networks. All the usual niches are covered, as well as niches that are harder to monetize, such as gambling and tobacco.
However, one thing to watch out for is the 25% fee deducted from each affiliate's earnings.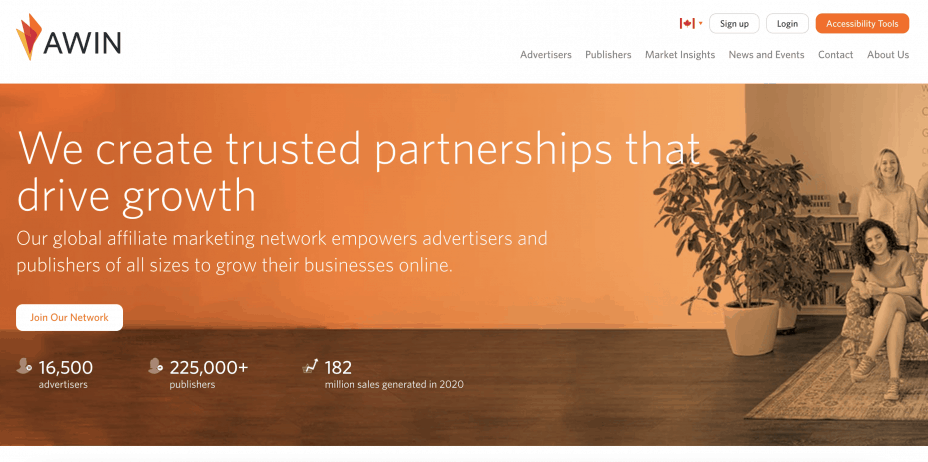 One of the more underrated options on this list, Awin's affiliate network is a good option for finance, insurance, retail, telecommunications, and travel niches. As with other networks, commission rates vary depending on advertisers; some come in as high as 50%, while others sit around 10%. Either way, much better than Amazon's 3%.
With Awin, you have the option of earning commissions based on cost-per-lead, cost-per-sale, or cost-per-action. And with a 30-day cookie duration, you've got more time to cash in on browsers becoming buyers.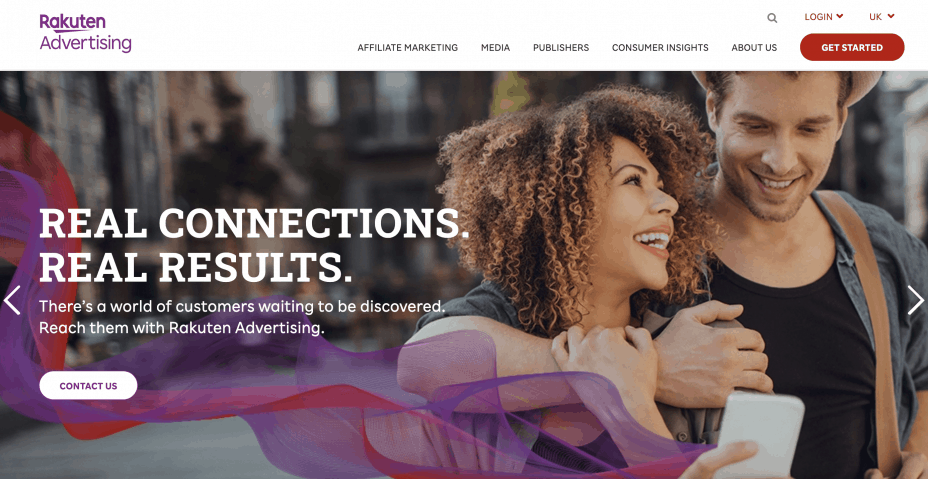 A favorite among online shoppers looking for cashback, Rakuten also offers an affiliate program that's a big win for affiliates too. Easy to use, although, with a slightly outdated dashboard, Rakuten Advertising connects you with a massive amount of high-quality brands, including Microsoft, Lyft, and Macy's.
Similar to CJ Affiliates, it connects you with affiliate programs rather than offering one themselves. Opportunities can be searched via keywords or by scrolling through the brands in your niche. And, as with CJ Affiliates, the commission is up to you to negotiate with the merchant.
Rakuten also hosts Walmart's affiliate program, which boasts a similar commission structure to Amazon Associates. And it gives you access to other big-name affiliate programs for stores such as Best Buy, Office Depot, and Dyson.
Describing themselves as a leading global retailer, ClickBank's in-house affiliate program gives you access to over 1,000 merchants. Commissions vary from 10-75%, making it a (potentially) very lucrative alternative to Amazon Associates.
A good option for beginner affiliates, there's a low payment threshold and a 60-day cookie lifetime, meaning you've got plenty of time to capitalize on referrals.
For sites with a lot of existing content looking to get into affiliate marketing, VigLinks is a solid option. That's because it uses JavaScript to automatically convert regular links into affiliate links without you having to sign up to individual affiliate accounts or update your content. All you need to do is add the code to your site, and voila.
VigLinks gives you access to over 70,000 advertisers, including eBay, Target, Nike, TripAdvisor, and Walmart. Commissions vary depending on your program, but you're automatically linked to the highest-paying offer, so you know you're always getting the best deal. It also boasts compatibility with AdSense to maximize your income potential.
For sites based in the digital goods and software niche, Avangate is an award-winning CPS affiliate network. With commission up to 75% and rewards for good performance, affiliates can earn a reasonably hefty income with Avangate.
Offering coverage in over 180 countries and access to big names such as Movavi, lolo Technologies, and IObit, it's a good option for those in the tech space.
For buyers looking to support independent sellers, find unique goods, or shop more sustainably (Etsy offsets all deliveries), Etsy is often the go-to marketplace. And now, affiliates can cash in on the site's growing popularity. Most sites, excluding voucher or cashback sites, qualify for Etsy's affiliate program, and commissions typically amount to 4% of the total sale value.
Although not on the same scale as Amazon, Etsy also offers a wide range of products for sale. It's particularly appealing for blogging, fashion, and craft sites as the variety of products support the creation of custom native content design to drive clicks.
One of the benefits to Etsy is that often the items are only found there, so buyers won't be able to find the same thing cheaper elsewhere, leading to more conversions. The Etsy Affiliate Program also has a 30-day cookie period meaning you benefit from an extended time frame for sales.
Another good Amazon Associates alternative, Avantlink's affiliate network can connect you to merchants in almost any category. As with other affiliate networks, commission rates vary depending on the merchant. Some come in around the same % as Amazon, while others are as high as 50%.
One downside to be aware of is that you cannot place cookies on your site, only on your ads. Cookie duration starts at 60 days and extends to 120 days when your link placement is confirmed.
Bonus – Direct from Brands
Many of the brands you're promoting via an Amazon affiliate site likely have their own store outside of the eCommerce giant. Indeed, many have in-house affiliate programs too. By going straight to source, you could start seeing bigger payouts as you help the brands avoid Amazon's seller fees. The downside being, of course, that it takes longer to source and negotiate than going through an affiliate network.
Hannah is a content marketing specialist at Investors Club and a freelance copywriter. When she's not busy behind the keyboard, you'll find her baking her signature salted caramel brownies or trying to sink that elusive hole-in-one.