Investing in a website is a lot like marriage — it's not something that should be entered into lightly. That's why we wrote this guide to website due diligence.
There's no such thing as a sure-fire success and while a business might look great on paper, it's not until you delve deeper into it that you uncover the hidden financial secrets.
You wouldn't buy a stock without understanding the company and its financial history, and website investing is no different.
Before deciding where to place your hard-earned money, it's important to carry out thorough due diligence first, so you know what you're getting into.
At Investors Club we've been carrying out due diligence for a long time and provide our members with some of the most detailed due diligence reports in the industry.
Not wanting to give away all of our secrets, here are just 6 of the proven methods we recommend new buyers use to vet their next investment.
1. Verify Earnings
One of the most important factors for carrying out due diligence is to establish the business' financials.
Investors looking for a fixer-upper might be more interested in the earnings potential rather than current profits, but nobody wants to end up with a business that's declining in profits.
Look at the consistency of these factors over the past 3, 6, and 12-month periods:
Gross revenue
Expenses
Net profit
A 6-month window is a good indicator of the reality of the business and takes into account factors such as impacts from Google algorithm updates. A 12-month window would identify any seasonality in the business.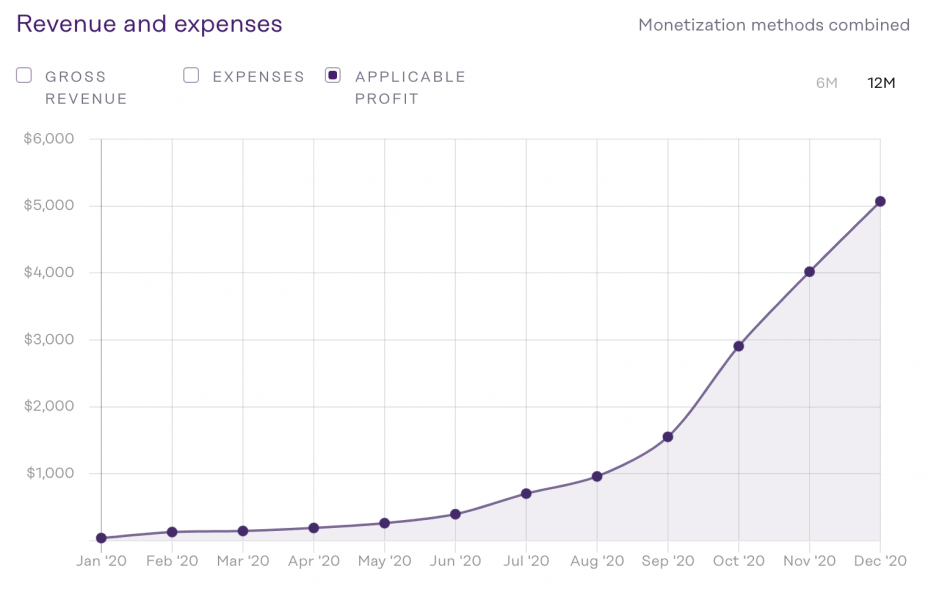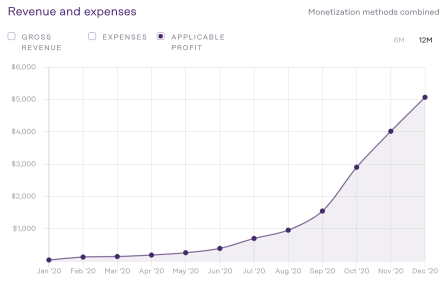 Just by looking at the recent earnings (say over the last 12 months), you can get a rough idea of the trending direction, but working out the month-on-month average growth rate is still advisable.
The simple calculation below will give you the monthly figure and then just work out the average for whatever period you're monitoring.
(current month – previous month) / previous month x 100%
If you're comparing two businesses then it's always a good idea to stick to a set of data that's replicable for both to give you a fair comparison.
2. Verify Traffic
When it comes to website traffic the general rule is the more the better.
Of course, this will depend on several elements:
The type of traffic a website is getting, which is why it's always important to never take data at face value. A website receiving lots of visitors that aren't highly targeted will often lead to low conversion rates and should raise a red flag for spam as a result.

Similarly, a high percentage of direct traffic could be an indication of fake traffic. Google processes 6.9 billion search queries a day, so what's the likelihood that 80% of this website's traffic is bypassing the tech giant?
Equally as important as the type of traffic is the diversity of that traffic. High organic results indicate a healthy SEO profile but the wider the mix the better.

Social channels directing traffic to the website can be valuable, while heavy reliance on PPC should be a potential cause for concern.
Once you've established where the traffic is coming from you're going to want to find out where it's going. Websites with low page traffic diversity are high-risk investments.

If the site relies on one page to bring in 70% of the traffic, what happens if that page were to be deindexed by Google and disappear?
Lastly, does the website have a strong presence in multiple countries, or is the traffic largely local?

International reach is attractive to buyers as it indicates larger markets and presents further opportunities for growth.
Looking at traffic trends over the trailing twelve months (TTM) is a good way of discovering the impact of the algorithm updates we touched on earlier.
It begs the question of did it fare better or worse after the update?
The corresponding month's revenue might have given you an indicator already but you can never have too much data when it comes to due diligence reports!
3. Check the Content
A website's content is its bread and butter. Therefore, before you become the proud owner of a new site, you need to check over the content that comes with it.
These can include any or a combination of the following methods:
Establish whether the existing content is included in the sale. It's always better to have complete control over your site so having this put in writing is a good idea.
Make sure to check the updates. Depending on the niche the website operates in, the content might require more regular updates. Check what, if any, updates would be required to keep it relevant and decide if you have the time to dedicate to this.
A little keyword research can go a long way here too. If keywords are not immediately clear then that in itself is a red flag. Checking their current popularity and relevance to the website niche will indicate how much extra work the website will need to maintain and increase its growth trajectory.

Also, websites should have a good mix of keywords as relying too heavily on just a handful of keywords puts them at risk.
Using a tool such as the Wayback Machine will show you how the website and content have changed since its launch.
While you're diving into data, checking the domain authority will help determine how likely the website is to rank in SERPs and is an indicator of content quality and relevance.
If you're looking to invest in the website as a form of passive income, consider the following:

1. How will you continue to produce quality content?
2. If the site currently uses freelance content writers, will their agreements carry over to you as the new owner?

Alternatively, you could take advantage of our content writing services over at Alpha Investors and let our team of professional writers produce content for you.
4. Evaluate the Backlink Profile
Backlinks act as a digital vote of confidence for a site, so ensuring a website has a healthy backlink profile is key for obtaining higher rankings.

Important to note:
Spammy backlinks could leave you on the wrong side of a Google Penalty which is bad news for business and can take a while to come back from.
Checking the types of backlinks is important – a website with primarily no-follow tagged backlinks may as well not have any. They aren't crawled by search engines so don't have an impact on SEO or page rankings.
While it's of course possible to build backlinks once you've taken over the site, having an established profile already is going to give you an edge going forward.
5. Look at the Monetization Methods
Not to sound like a broken record here but diversification is key. How is the website earning money and is it sustainable?
For content sites, there are multiple ways to earn money including:
Display advertising (Adsense, Ezoic, Mediavine, Adthrive)
Amazon Associates 
Direct advertising deals 
Guest/sponsored posts
Lead generation 
Having a diversified source of income helps to limit potential damage to revenue if commission rates change (as they did with Amazon Associates in 2020).
However, single-income-stream sites present the perfect opportunity to increase revenue by adding new monetization methods to the site.
6. Identify Growth Opportunities
Even if you're not looking for a fixer-upper, identifying potential growth opportunities is still important.
A stagnating business isn't attractive to future buyers if you decide to flip it in the future, and it's always preferable to be able to earn more money.
Two ideas for where to start with your growth opportunities research:
1. Asking the seller what they see as growth opportunities for the site is a good place to start. They should know the niche inside out and could have already identified possibilities that they just didn't have the time/resources to implement.
2. A look at competitors' sites — what are they offering that this site isn't?
Potential areas for growth could include:
Diversifying content (while staying within the niche). For example, if the site reviews desktop computers, adding content about laptops or computer accessories could provide room to grow. 
Adding new monetization methods (as mentioned in section 5).
Developing/growing email lists and social media channels (think Pinterest) as potential sources of more traffic.
Creating new content types such as videos, product comparison tables or infographics breaking down the topic to attract new audience members.
Updating the site through design and making it mobile responsive. 
At Investors Club we provide in-depth due diligence reports so if you're buying on our private marketplace you don't have to worry about any extra homework.
Take a look at one of our sample reports or view our latest listings and discover your next investment.