If you're planning to make website flipping a regular habit, then selecting the right marketplace becomes even more crucial.
Where you choose to buy and sell a website is going to have an impact on your bank balance that goes far beyond just the sale price.
After broker fees, escrow, and legal documents have been factored in — not to mention those hidden costs – it's easy to end up spending more or pocketing less than you intended.
With plenty of options to choose from, let's examine how market-disruptor Investors Club measures up to established broker, Empire Flippers.
TLDR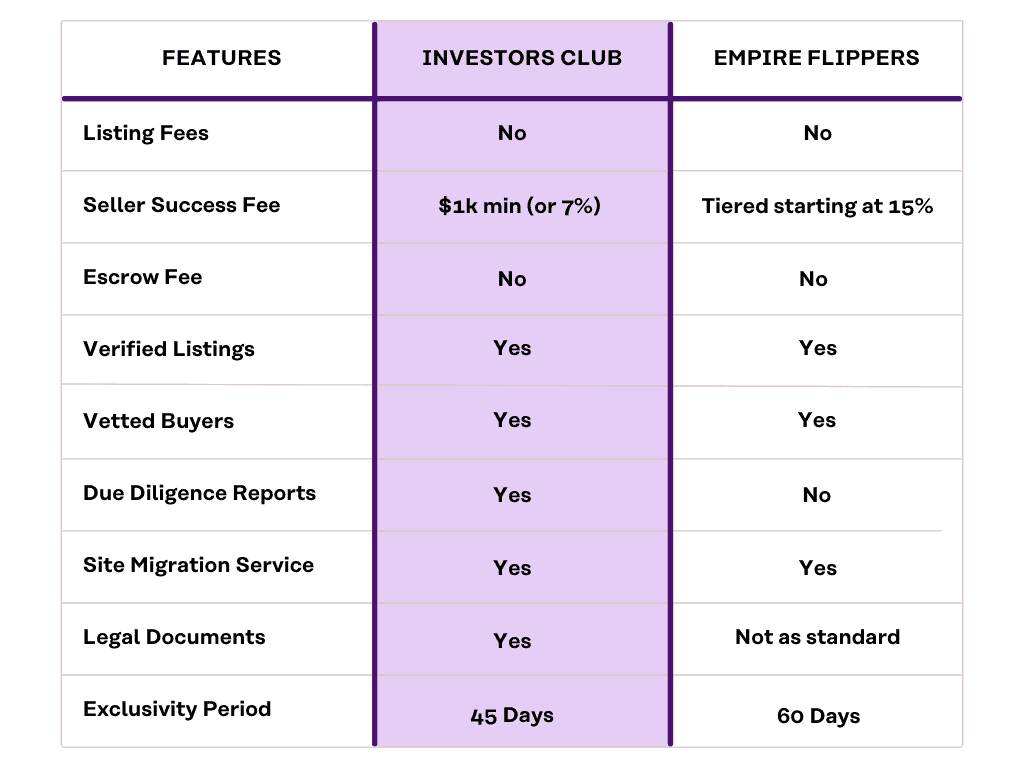 To keep things simple, we'll compare them on individual category levels.
First up…
Listing Categories
For sellers, whether a marketplace supports the sale of your site type is the first thing to look for. There's no point comparing fees, buyer pools, or added extras until you know the answer to this all-important question. But, as a buyer, unless you have a particular set of criteria, this factor is likely to have less impact.
Empire Flippers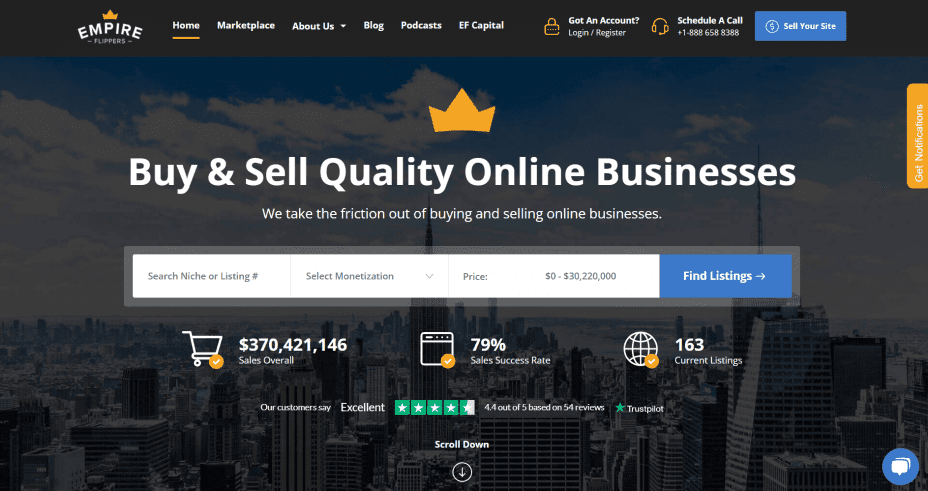 The Empire Flippers marketplace supports a wide range of sites. Alongside content sites, you can also find FBA, Amazon Merch, SaaS, dropshipping, and e-commerce sites, as well as the occasional mobile app.
Given the scope of the offerings, buyers have the option to filter by monetization, price, or search by niche.
Although the number of acceptable site styles is high, all listings must comply with a strict set of requirements. These include:
$2000/month net profit minimum
A minimum site age of 6 months
No sites related to adult content, gambling, hacking or payday loans, or selling products containing CBD or hemp oil.
Investors Club
Investors Club specializes in profit-generating content sites focusing on affiliate marketing, display and direct advertising, as well as e-commerce sites.
Sites are ranked organically, but buyers can filter by monetization type, date listed, or asking price for a more tailored marketplace.
Content sites need to be older than 6 months to qualify and e-commerce sites need to have at least 12 months of verifiable sales history. Both have to avoid inappropriate content (gambling, adult, etc.).
Winner: Empire Flippers for the variety of site types and monetization methods available. However, for buyers with smaller budgets, Investors Club's more inclusive site requirements may result in more options.
Fees
Once you've established whether a marketplace supports the site you're looking to buy or sell, what fees they impose should be the next big question. And by big, we mean possibly the most important question you'll ever ask, aside from perhaps "Will you marry me?"
That's because, while a few % difference in fees might not look that big on paper, it can quickly add up — particularly when you start looking at sites in the 5+ figure range.
So how do the two compare? Well, both marketplaces have free listings for sellers and no buyer fees, but that's pretty much where the similarities end.
Empire Flippers
Operating on a tiered commission structure, how much you pay on the sale of your business depends on its final selling price.
Under $700,000 — flat 15% commission on the sale price
$700,000 to $5m — 15% commission up to $700,000 and then 8% on the remaining
$5m and above — 15% commission on first $70k, 8% on the amount up to $5m, and 2.5% on the remaining amount
So as an example, on the sale of a site worth $6 million, a seller would be charged a staggering $474,000 commission.
(15% on $700k = $105,000 | 8% on $4.3m = $344,000 | 2.5% on remaining $1m = $25,000)
Investors Club
On the other hand, Investors Club charges a flat commission rate of just 7% (with a minimum of $1,000) — one of the lowest in the industry. With a straightforward pricing structure, sellers can be confident that regardless of the final selling price, that's all they'll ever pay.
For the sake of comparison (that is why you're here, after all), let's take our hypothetical $6m site and look at what the commission rate would be with Investors Club.
At just 7%, a seller would pay $420,000 in commission, saving an impressive $54,000.
And the numbers are equally as impressive on smaller price-tag sales too. For example, selling a $50k site on Empire Flippers would set you back $7,500, while on Investors Club as little as $3,500.
Winner: Investors Club for offering the lowest seller fees in the industry (7%) and a flat commission structure.
Buying
As a buyer, some of the key features to look for in a website broker are the safety and security features they offer, customer service, and ease of use.
We're going to cover customer service as its own topic later on, but here's how the two look after buyers.
Empire Flippers
To access the key information about a site on the Empire Flippers marketplace, including the URL and detailed traffic/earnings reports, you'll need first to unlock the listing.
To do this requires credit card information or an online banking connection along with proof of funds. This gets you to "verified buyer" status and gives you the option of unlocking up to 10 listings in your price range. (For more, you'll need to contact the sales team.)
With a listing unlocked, you also have the chance to ask the seller questions about the site. For listings over $100,000, this is done using Empire Flippers as an intermediary and can be achieved via message or a phone call. Anything under $100k and calls are not available, but there is a question button on each listing.
Empire Flippers claim that this level of secrecy helps to protect sellers and prevent copycat sites from exploding into the niche and competing with the listed site. For buyers, though, it means the marketplace isn't their's to explore fully, so it's a trade-off.
However, once you've found a site, the buying process is simply a case of selecting 'Buy It Now' and sending a wire transfer. Empire Flippers operates on a "first in" policy, whereby the first wire received wins the purchase. To up your chances of being successful, they recommend buyers leave credit on file with them.
It's worth noting that although buyers can offer a lower price if it gets accepted by the seller, the offer is then circulated to other active "verified buyers" for 24 hours. So even if you've won the wire race, you could still see your offer sniped.
All sales on the Empire Flippers marketplace are final, and there is no inspection period post-sale. The website states that "we make no guarantees, expressed or implied." Although all information corresponding to the listing is verified and updated monthly, any due diligence falls on the buyer's shoulders. But more on that later.
New listings go live every Monday, but investors with smaller budgets may find the prices a stumbling block. Most listings fall within the 6 to 7 figure range, and sites rarely go for less than $40,000, so it's not as accessible for newer investors.
Investors Club
Signing up to be a member of Investors Club's exclusive marketplace is free.
However, to get the most out of the marketplace, you'll need to upgrade to our premium membership. This is done via a yearly subscription ($247) and includes:
URLs for all sites listed on the marketplace
Investors Club extra detailed due diligence reports
A private Discord community for active investors
Discounts on partner services and more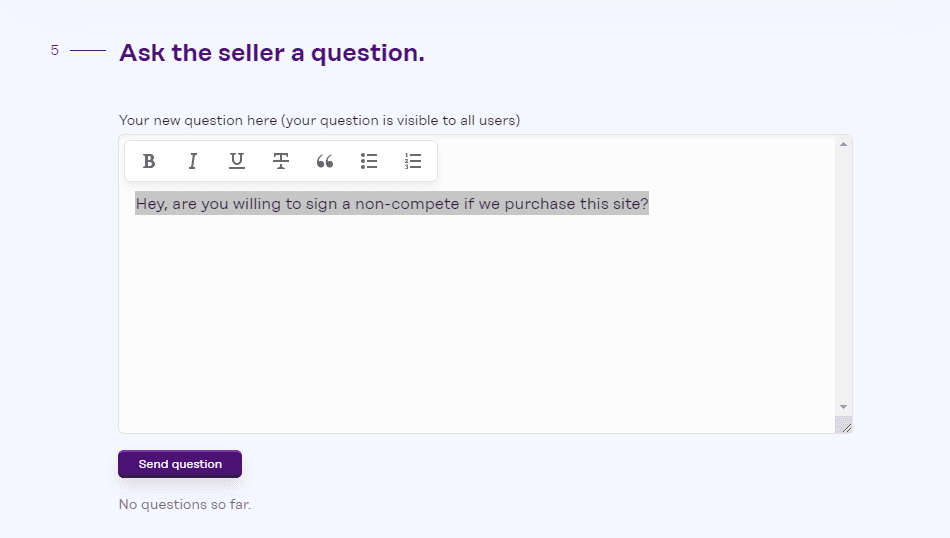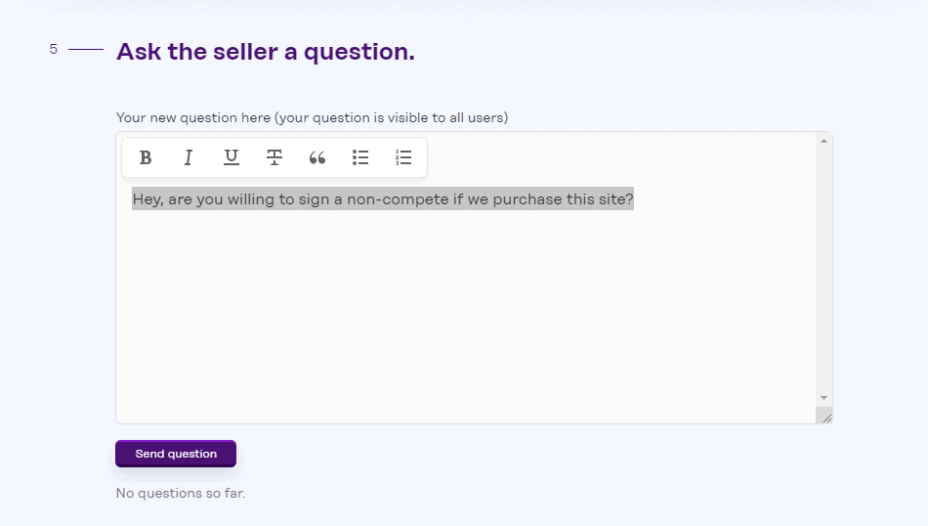 Premium members have the option to post public inquiries on the listing via the Q&A section or send sellers private messages. This last option is recommended for buyers intending to submit a below-asking price offer. It enables you to initiate a dialogue with the seller and agree on a price.
To ensure you're always looking at an accurate picture of the listed site, data is updated weekly. This is why it can look like traffic or revenue took a nosedive during the last month. But if it's partway through the month, it's more than likely that the full numbers just haven't come in yet.
Unlike Empire Flippers, once an offer (of any kind) has been accepted, the listing is put on pause for 3 days so no other offers can be made. This gives the buyer time to fund the escrow, which is free as standard.
In addition, sites go through a 14-day inspection period, carried out by analysts at Investors Club to ensure that results fall within 70% of that stated on the listing. If they don't, buyers can withdraw from the sale, but if everything looks good, the funds are released to the seller, and the listing is closed.
For those with smaller budgets, the Investors Club marketplace includes sites for sale from 4 figures, so you don't need big pockets to get involved.
And for those short on time, Investors Club also offers a Deals Concierge service which is available to all members. It takes the leg work out of finding sites by having a team of experts draw up a list of 3–5 potential listings and taking care of all the after-sale care.
Winner: Investors Club for unlimited access to the marketplace (with membership), more varied price points, and a confirmed sale that can't be sniped.
Due Diligence Reports
Buying a website, no matter the price point, is a big decision. As with any other investment, appropriate research should be undertaken. Due diligence reports do much of the work for you by compiling all the information into one place. So, what do the two platforms offer in the way of due diligence reports?
Empire Flippers
Basically, there aren't any.
Empire Flippers vet listings to make sure the information is accurate, but after that, it's up to the buyer to complete any due diligence they feel is necessary. Instead of providing their own, they recommend Centurica as a third-party provider. But at upwards of $3,500 per report, it's not a cheap endeavor.
Investors Club
On a complete 180º, Investors Club offers some of the most detailed due diligence reports in the industry, free as standard to all Premium members.
Compiled by our team of in-house analysts, every listing comes complete with a report that covers
Financial overview
Traffic overview
Business analysis, including niche, competitive, risk, growth, and workload analysis
Earnings potential
Site information, including the domain strength, metrics, and spam signals
Wayback history (where available)
Downloadable SEO analysis, content analysis, and traffic analysis reports
Click here to read a guide on how to get the most out of the report features and make an informed decision about your next purchase.
Winner: Investors Club for not only providing them but for offering some of the most detailed due diligence reports in the industry.
Selling
We've already covered the all-important fees, but here's what else sellers should know before picking one platform over the other.
Empire Flippers
Much like Investors Club, Empire Flippers has an easy listing process. A simple follow-the-form type submission process, it covers all the basics you'd expect:
Site age & URL
Net profit over 3, 6, and 12 month periods
A brief explanation of the business
Their website states that it takes an average of 2–3 weeks for a listing to go live. As the initial submission form isn't that detailed, during that time you will also need to provide screenshots of monthly revenue, verified expenses, other site information, and grant access to Google Analytics data.
When listing, Empire Flippers asks sellers to agree to a two-month exclusivity period. They boast an 85% success rate, but if after two months a site hasn't sold, you have the option of keeping it or delisting it and taking it elsewhere.
Buyers don't go through a vetting process as they would with Investors Club, so there's no guarantee they're serious. However, as they are required to unlock listings to see URL and other data, this is one-way sellers can weed out the tire kickers. FYI, Empire Flippers state that URLs are hidden to protect sellers and prevent copycats from competing directly with a site listed on the marketplace.
Investors Club
Similar to Empire Flippers, Investors Club requires an exclusivity agreement before listing but this time it's 45 days.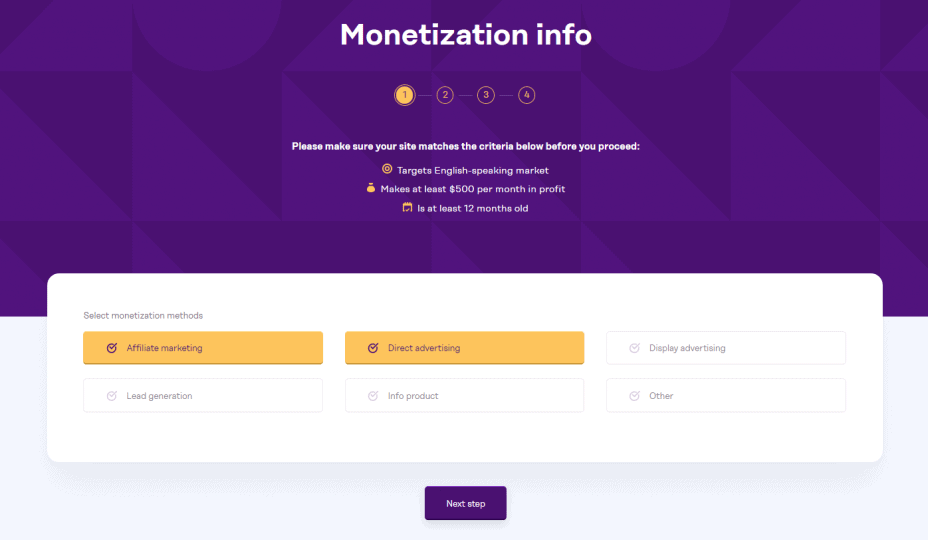 Investors Club's listing process is intuitive and happens in two parts.
The initial submission – basic site information to ensure you meet the standard requirements (traffic, revenue, age, etc.)
The analyst follow-up – essentially fleshing out the details provided and granting access to Google Analytics

After that, the Investors Club team of analysts takes over and compiles all the data needed for the listing and puts together a comprehensive due diligence report to go alongside it.
We've gone into more detail about the listing process here, but essentially sellers are also required to provide proof of identity and site ownership to eliminate the risk of scam sites.
New sites are published as they become available, so there's no waiting around to go live.
One important difference to note between the two platforms is the factors that go into valuations. Empire Flippers includes discretionary expenses, like the cost of links, content, etc., in their valuations; Investors Club doesn't.
What does this mean for sellers? Well, with Investors Club, the same site might receive a lower multiple, but ultimately the valuation comes out on par or potentially higher. Therefore as a seller, you keep more profit, especially when you combine this with Investors Club's lower selling fees.
Winner: It's a tie in terms of ease of listing, but Investors Club takes the lead for their lower seller fees.
Valuation Tools
Accurate valuation tools give you a good indication of the selling price your site can command. Obviously, they're great if you're looking to sell, but they can also be helpful to track progress on website fixer-upper jobs too.
The good news is that both platforms offer free valuation tools.
Empire Flippers
Empire Flippers valuation tool is quick and easy to use and asks for:
How the site makes money and revenue channels
How many hours does it require
When the site was started
Monthly gross revenue & net profit
Unique website visitors
Email subscribers and social following data

The one downside for potential sellers aiming for inbox zero is that you'll need to provide an email address to unlock the valuation. This, of course, then opens you up to a slew of marketing emails from Empire Flippers, although unsubscribing is easy.
As part of the valuation, you'll get a recommended selling price, as well as information about similar sites and their price range, and an analysis of your numbers (ie. whether your unique visitor numbers are good for the age of the site).
Investors Club
The free valuation tool on Investors Club goes into more specific detail for an accurate valuation.
Aside from wanting to know your monetization methods, it also asks for:
Website URL
Number of pages
Whether you built or bought the site
Site age
Whether it's in a controversial niche
If it's ever been hit by any kind of Google penalty, etc.
PBN links, or redirects usage and whether it's built on an expired domain.
Traffic data (dominant country, source, average visitors)
Gross monthly revenue and profit over a 6-month average
Seasonality of the niche
Trending direction for revenue and traffic
Once you've filled in the relevant information, you're taken straight to the valuation — no email required. Here you're shown the recommended selling price and the fees you can expect to pay, and save, by selling with Investors Club. 
Winner: Both tools are free and easy to use but Investors Club does go into more detail so the likelihood of getting an accurate valuation is higher.
Site Migration Services & the Legal "Stuff"
Migrating a site to a new owner is more complicated than simply creating a new user account and changing passwords. Done incorrectly and you risk affecting the site's traffic flow and ultimately revenue. Not to mention transferring ownership of content requires legal contracts to protect both parties. So, is this something the two platforms offer?
As it turns out, yes.
Empire Flippers
Once the funds from the sale have cleared, Empire Flippers take care of transferring the site to the new owner. It's a service included in the sale, but they also offer sellers the option of handling it directly. As professionals should really handle a site migration, push for the in-house service where possible.
As previously mentioned, all sales are final with Empire Flippers, so there's no recourse if it turns out the site isn't entirely as portrayed. Most deals are made without an APA (asset purchase agreement) but do need to abide by their Terms of Use Agreement which you can read here.
Once a site has transferred to the new owner, the seller is responsible for any additional support such as Skype calls or email support that may be required. However, the whole process is relatively quick, with the Empire Flipper's website stating that it takes on average 1-3 weeks to go from sale to seller payment.
Investors Club
Investors Club offers a similar after-sale service to members too.
Once the free in-house escrow has been funded, our team of experts set about initiating the migration process. This includes the transfer of
Domain
The site's files
Hosting
Affiliate IDs
Any additional assets included in the sale
Investors Club takes care of all the legal necessities, including drafting an Asset Purchase Agreement for both parties. As part of the service, we also include a 14-day inspection period which ensures that the average revenue falls within 70% of the numbers stated when the site was valued. If not, buyers have the option to back out before the funds are transferred to the seller.
Although sellers are asked to provide up to 30 days of after-sale support, the majority of the Q&A is handled by the Investors Club analysts. Any additional requirements would be laid out in the Asset Purchase Agreement before a sale is finalized, so a seller knows what to expect.
Winner: Investors Club for the added security of the inspection period during the migration process.
Customer Service
It's a bit like insurance, you hope never to need it, but it's always nice to know solid customer service is waiting in the wings if there's a problem. So what are your options?
Empire Flippers
Ranking well for customer service on Trustpilot, Empire Flippers offers multiple ways to get in touch.
Support page with FAQs covering a range of topics
Live chat service
Email
Phone
Investors Club
Investors Club also has a good reputation for customer service. Alongside a detailed support section for both buyers and sellers, members can take advantage of a Facebook messenger option and an email support line that gets a response in a few hours.
In addition, there's a contact box on the website so you can submit a support email without even leaving the browser.
Winner: Empire Flippers for the addition of the phone option alongside the same contact offerings as Investors Club.
Extras
In addition to the standard features you'd expect from a website marketplace, both sites offer additional value in the form of 'extras.'
Empire Flippers
The Opportunity podcast
EF Capital, a website operating service that hands over the day-to-day running to an individual operator
Empire Flipper's blog with website and business-related content
Investors Club
Flipping Websites podcast
Deals Concierge service offering a tailored investment selection to fit the individual investor's criteria
Buzz Logic, a website operating service run by a team of experts that takes care of acquiring, operating, and effectively growing a site for you (partner site)
Private Discord community for premium members
Investors Club blog full of website-related content and platform guides
After reading this review of Empire Flippers vs. Investors Club, it should be clear why thousands of investors trust us to handle their website transactions.
Investors Club offers the lowest fees in the industry, 100% verified listings, and expert analysis as standard.
Explore the marketplace to see what business opportunities are waiting for you, or get started listing your site today.