One of the hardest decisions you'll face as a website owner is not when to buy and sell, but where.
While buying and selling websites can be a lucrative investment opportunity, high broker fees and hidden costs can quickly eat into your bottom line.
With a myriad of platform options to choose from, let's take a look at how Investors Club compares to market leader, Flippa.
But first, a little background…
Considered the OG broker and the first marketplace for trading websites, Flippa "facilitates the meeting of buyers and sellers". Founded in 2009 and headquartered in Melbourne, Australia, and Austin, Texas, it boasts more than 300,000+ buyers and has handled over $400 million in sales since its inception.
Launching in 2020, members-only marketplace Investors Club is the new kid on the block — but what it lacks in age it more than makes up for with experience.
IC is the brainchild of serial website builder Andrej Ilisin who has successfully grown two businesses to 7-figures respectively and built and flipped many websites in the process.
Founded to fill the gap in the market for a straight-forward, customer-focused, low-cost online broker, members benefit from a wealth of global experience.
With a fully remote team, the lack of fancy corporate office spaces keeps costs down enabling Investors Club to pass on the savings, offering members the lowest seller's fees in the industry.
Here's how the two compare.
Listing Category Options
Investors Club lists profit-generating content sites and e-commerce sites.
Offering full seller verification and integration with Google Analytics, you can buy with confidence through our members-only marketplace.
Sites are ranked organically on the platform and buyers have the option to filter by monetization type, date listed or asking price for a more tailored experience.
With access to exclusive vetted listings, members can find investment opportunities available nowhere else on the internet.
Flippa on the other hand offers a wider variety of investment options:
Websites
Domains
Apps
Starter sites/templates
Listings are ranked using the platform's own system which considers the information supplied by the seller alongside the listing's data integrations.
With the option to pay extra to boost your listing and a lack of seller verification, buyers have to filter through an overwhelming number of sites to find the good ones and avoid the scam sites (more on this later).
Winner: Flippa for the variety of options available, although it suffers from a lack of a verification process.  
Fees
One of the biggest deciding factors between online website brokers is the fees — hidden or otherwise.
Flippa operates a fixed listing fee depending on the category and a sliding scale of selling fees (or success fee as they call it) based on the final sale price.
They also offer several additional services such as a partner broker to facilitate the sale for you and various upgrade options.
Flippa fees break down as follows:
Listing Fees
Websites – $49
Apps – $15
Stater sites/templates – $15
Domains – $10
Success Fees
Sales up to $50K: 10%
Sales between $50k – $100k: 7.5%
Sales over $100k: 5%
Escrow Fees
$0 – $5000: 3.25% ($10 minimum)
$5000 – $25000: $162.50 + 0.26% of the amount over $5000
$25,000+: 0.89%
Buyers also pay an additional 2.9% fee if using a debit or credit card
Additional Fees (Optional)
Partner broker: 15% success fee
Listing upgrade: $65 – $295
Marketing boost: $395
Ultimate boost: $545
Newsletter boost (domains only): $95
Non-disclosure agreement and confidential listing: $99
Listing review and optimization report: $29
Due Diligence Report: starting at $1000
Investors Club on the other hand keeps things simple.
We don't charge buyer fees, transfer, inspection, or escrow fees, and sellers pay just 7% – one of the lowest in the industry.
Due diligence reports come as standard for premium members ($247/year) and are some of the most detailed analyses of websites you will find.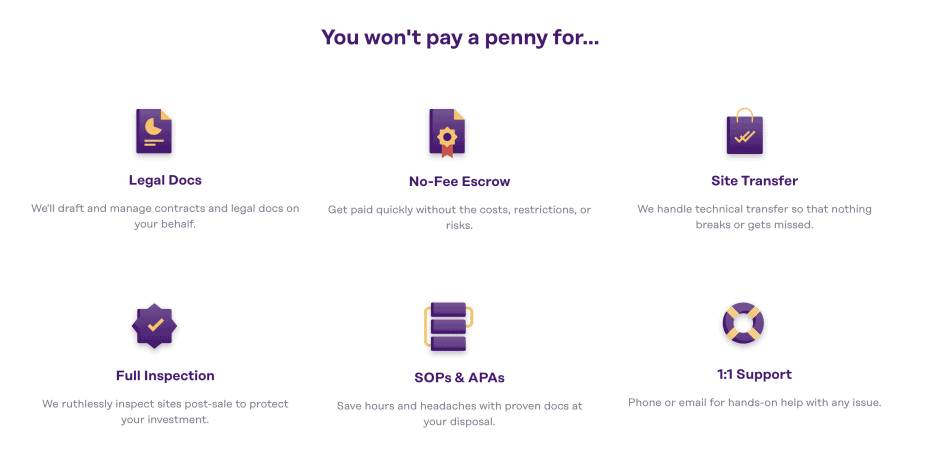 Winner: Investors Club for the simple, low-cost approach to fees.
Buying
Buyers can browse safely in the knowledge that every listing on the Investors Club marketplace has been thoroughly vetted.
This means sellers always must provide the following:
Proof of identity
Verify domain ownership
Verify affiliate account ownership
Verify revenue the website is generating before we'll list it
This information is carefully examined by our team of analysts so you can be confident you're buying a genuine site with Google Analytics data to back it up.
At the same time, sellers sign an exclusivity agreement so as an Investors Club member you're gaining access to exclusive listings, giving you a head start on finding your next investment opportunity.
While sellers are required to upload documentation, there is no verification process on Flippa leaving buyers vulnerable to scams. In fact, scam sites and misreported revenue have been a big problem for users of the platform.
With a lack of due diligence reports, buyers are left to determine the legitimacy of listings themselves, often with negative results.
Winner: Investors Club for the data-backed verification of listings.
Selling
Flippa sellers benefit from a buyer pool of $1.2 billion and the flexibility to offer auction or fixed-priced listings.
However, much like the sellers, buyers are also unvetted. Unless they use one of the financing options available, there's no proof they have the funds to complete the sale, resulting in a massive amount of time being wasted.
Investors Club accepts only serious buyers in their exclusive Premium Membership program. Only Premium buyers have access to full listings and are able to acquire a site.
Offering a fixed price selling model and a free, fair (but rewarding) valuation, sellers can be confident that they'll get a price that accurately reflects the value of their business.
Winner: Investors Club for its pool of serious buyers.
Valuation Tools
Sellers can access Investors Club's free valuation tool before they sign up to the platform and get a commitment-free valuation of their site.
If you then decide to list with us, our team of expert analysts will scour your website's data and reports along with an in-depth analysis of the niche, content, SEO health, and growth potential to make sure you get a fair price.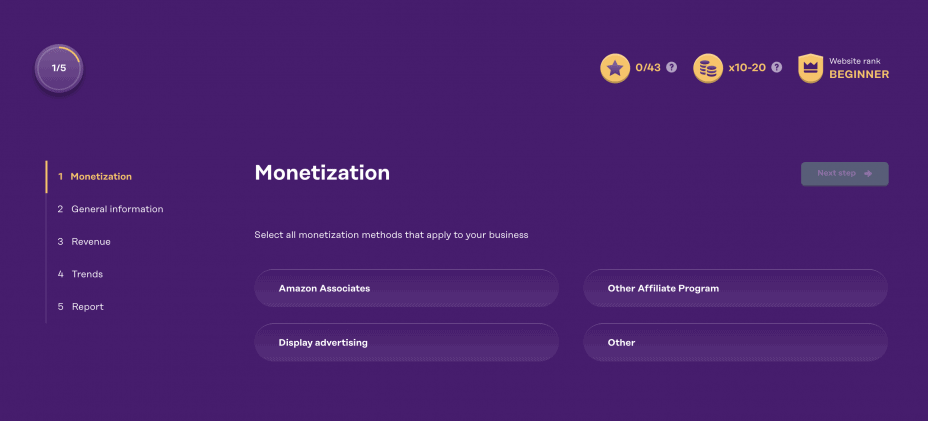 Flippa offers a valuation service but it's limited to a chatbot with a set of predetermined questions. Only taking into account data from the previous month, it's unlikely to provide a super accurate valuation vs other more detailed tools.
Winner: Investors Club for its free detailed valuation tool, and sale guarantee.
Due Diligence Reports
Flippa does not provide due diligence reports as standard. Instead, they state that it is the buyer's responsibility to vet claims made by sellers and sets out a recommendation for due diligence methods that should be performed before a sale.
Buyers can take advantage of their in-house report service with prices starting at $1000 or use services like Centurica's for due diligence reports ranging from $549 – $899.
However, for those unwilling or unable to pay these extra costs, there's a lot of extra work to be done before you can even compare two potential investments.
With a bad history of scam sites and faked data, there's a lot of hay to sort through to find that prized needle.
However, for Investors Club Premium members, due diligence reports come as standard, while Guest members have limited access to data such as finance and traffic overviews.
Our team of expert analysts deep-dive into traffic, profitability, backlink profile, and other important factors to compile some of the deepest due diligence reports in the industry.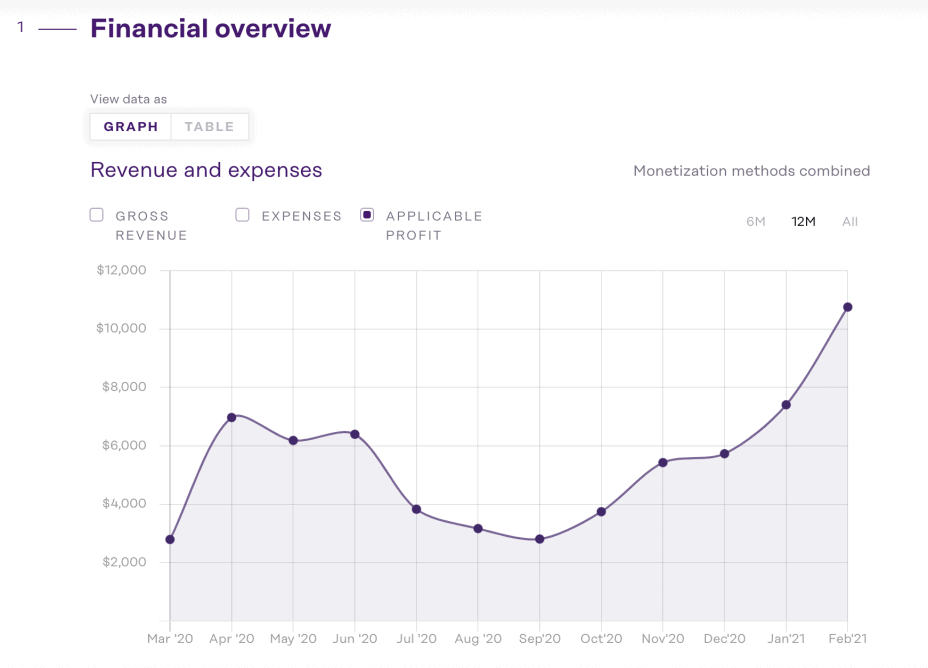 Buyers can get a complete look at each business and access to the information required to set them up for success from just $247/year.
Winner: Investors Club for detailed due diligence reports as standard with membership.
Site Migration Service and the Legal "Stuff"
Flippa states on their website that "Flippa does not take part in the transfer of ownership or delivery of assets and inclusions within a sale". Therefore it falls on both the buyer and the seller to ensure they are capable of transferring everything and can do so without disrupting the website.
Similarly, while they offer an integrated offers platform, Flippa only provides Contract of Sale templates and recommends that third-party legal advice is sought before finalizing a sale.
On the other hand, Investors Club's integrated offers platform comes complete with done-for-you legal documents and an internal migration service that handles all site transfers, so there's no need to seek outside advice or third-party services.
Winner: Investors Club for full transfer service and done-for-you legal documents.
Customer Service
Both sites offer detailed FAQ sections and blogs full of useful resources for both buyers and sellers.
However while Investors Club offers a responsive, dedicated customer support service, Flippa offers 24/7 support giving them the edge for night-owl investors.
Winner: Flippa for its 24/7 customer support service.
Extras
In addition to the standard features, both sites offer a selection of useful extras that users might find valuable.
Flippa offers:
'The Exit' podcast
Flippa Private where sellers with over $500k annual profit can be matched with a selection of limited buyers to sell without public listings.
Flippa finder, a professional guide service for 1st-time buyers (for $50 + 2.5% acquisition fee).
Financing options with Guidant Financial for US residents.
Investors Club offers:
'Flipping Websites' podcast
Deals Concierge service to help buyers find the investment opportunity right for them
The ability to be hands-off with our website operator service Buzz Logic that takes care of acquiring, operating, and growing your site so you can sit back and collect the profits. 
VIP Discord community to connect with other investors and website owners (premium members only)  
After reading this it should be clear why investors are choosing us to handle their website transactions.
Investors Club offers the lowest fees in the industry, verified listings, and expert analysis. Explore the marketplace to see what business opportunities are waiting for you and join the thousands of investors choosing Investors Club today.
Hannah is a content marketing specialist at Investors Club and a freelance copywriter. When she's not busy behind the keyboard, you'll find her baking her signature salted caramel brownies or trying to sink that elusive hole-in-one.