As a member of Investors Club, you have access to a marketplace full of exclusive listings. All the sites come from verified sellers so you can invest with confidence through our platform.
Investors Club has scrapped the traditional buyer fee model and offers done-for-you legal documents, no-fee transfer, inspection, and escrow services to make website investing easier and more affordable than ever.
Setting up an account takes just a few minutes and once you've found the right business, we've made it easy to complete the purchase quickly and efficiently.
With Investors Club there are no long wait times so your new investment starts paying off from day one.
Let's take a look at the process of purchasing a website — just head over to the marketplace to get started by hitting the "buy" button (illustrated below).
Step 1. Browse the Marketplace
The Investors Club marketplace was built with members in mind. Here you can see a brief overview of each business and filter by monetization type, price, or date the listing went live.
With our in-depth due diligence reports available to all VIP members, analyzing a website can now be done at the click of a button.
Each listing comes complete with a thorough analysis on everything from the financials and site traffic to spam signals, content and opportunities for growth, giving you all the information needed to make the right decision.
We've written more about making the most of our due diligence features here so for this post let's assume you've done your research and found the site you want to acquire.
Now that you're confident in your decision, it's time to talk $$$.
Step 2. Negotiate
All listings come with an asking price that is based on our in-depth valuation process, however, buyers also have the option to negotiate.
If you're going down this route we recommend sending a message to the seller first with the lower offer explaining your reason behind it.
This is because sellers have the option to accept, counter or reject offers that differ from the asking price, and knowing why the price was offered can be helpful during this process.
When you're ready to take the plunge, hit the 'send offer' button at the top of the listing and enter your bid.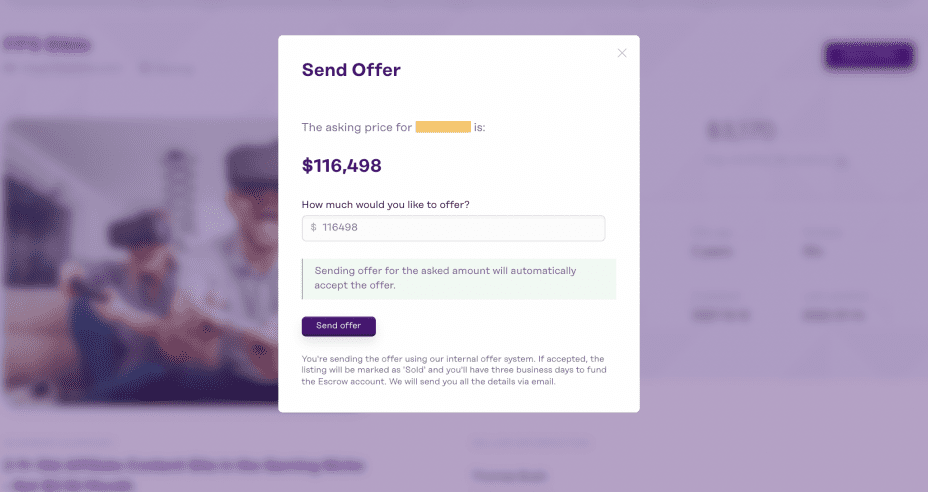 If you send the full asking price then the offer is automatically accepted. Below (or above) and you'll enter into negotiations with the seller.
After an offer has been made, the listing displays an 'under offer' sign. During this time, other investors can still make bids so the deal is by no means settled.
Step 3. Offer Accepted, Time to Pay
Once the seller has accepted your offer the listing is marked as sold and put on pause to secure your deal.
As soon as this happens we start drafting the Asset Purchase Agreement with all the details of the sale and send it to both you and the seller.
You'll receive an email to the address registered to your account notifying you of the sale with instructions on how to fund the Escrow.
Investors Club offers fee-free escrow services as standard so you can devote more of your money to your budget and less to paying platform fees. In fact, buyers don't pay any fees with us!
You have 3 days in order to transfer the funds and once that's done we start the technical migration process.
Step 4. Transferring all assets
The transfer process can take anywhere from a few days up to a week depending on the size and complexity of the business and includes:
Domain migration
Site admin credentials
Hosting migration
Analytics admin access
Ad account transfer (optional)
Affiliate account transfer (optional)
Full site testing
With the transfer complete, it's on to the inspection period.
Step 6. Inspection Period Begins
As part of our service to buyers, we offer a free 14 day inspection period for each site.
During this time we monitor the earnings to ensure that they're within 70% of the average revenue when the site was valued.
If everything looks good, we send your money to the seller, the deal is officially closed and you'll both receive a Bill of Sale.
Step 7. You're in Charge Now
Once the transfer process and inspection periods are complete you're in control.
Many sellers offer a window of support to help new owners but if not we're here to help with any teething problems. 
If you haven't set up an Investors Club account already, we've written more about it in part one of our buyers guide series, available here. 

New listings go live on our marketplace every day so there's never been a better time to find your next investment.
Hannah is a content marketing specialist at Investors Club and a freelance copywriter. When she's not busy behind the keyboard, you'll find her baking her signature salted caramel brownies or trying to sink that elusive hole-in-one.