Investors Club offers a free valuation tool that gives you an honest and fair idea of your site's potential selling price.
Combine that with our low seller fees (the lowest around), world-class service, and serious buyers, why wouldn't you want to list your site with Investors Club?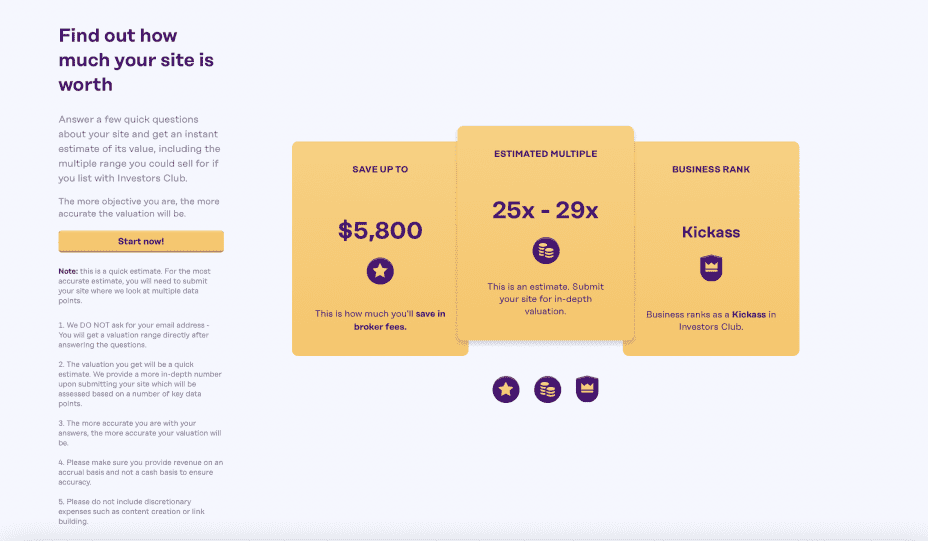 Just like everything else on the platform, the free valuation tool is easy to use. You simply answer straightforward questions and as you progress you'll earn "valuation points" and see your multiple go up or down depending on the answers you provide.
Requiring just a few minutes of your time, once you're done you'll be left with an estimated selling price and an honest overview of your website.
If you're happy with the results and decide to list with us we'll then go over the site one more time to ensure the valuation is accurate.
Our team of analysts will then put together a thorough due diligence report free of charge to give buyers an insight into your business and get you on the way to a sale.
Sound good? Here's how the process works.
Step 1: Monetization
First up you'll need to tell us the monetization type (select as many as applicable).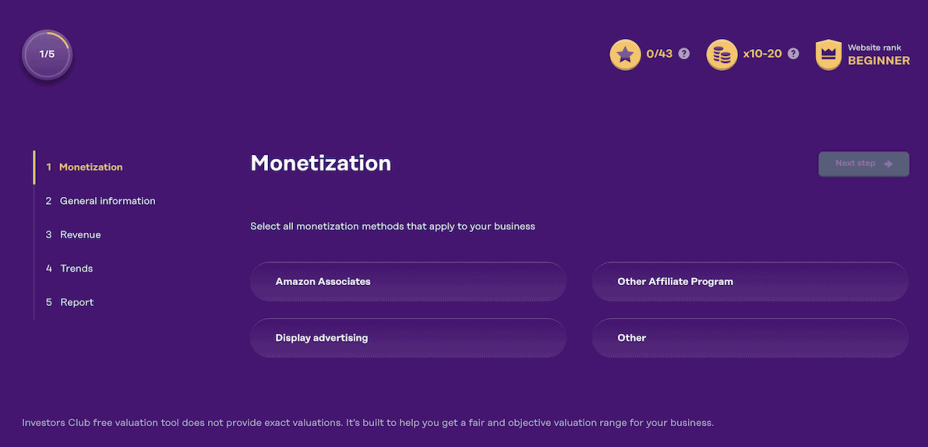 Note: you won't be able to proceed without providing at least one answer for each stage.
Step 2: General information
Next, it's time to learn more about the site including:
URL
Number of pages
Whether you built it, bought it, or it's being sold via a broker
The site's age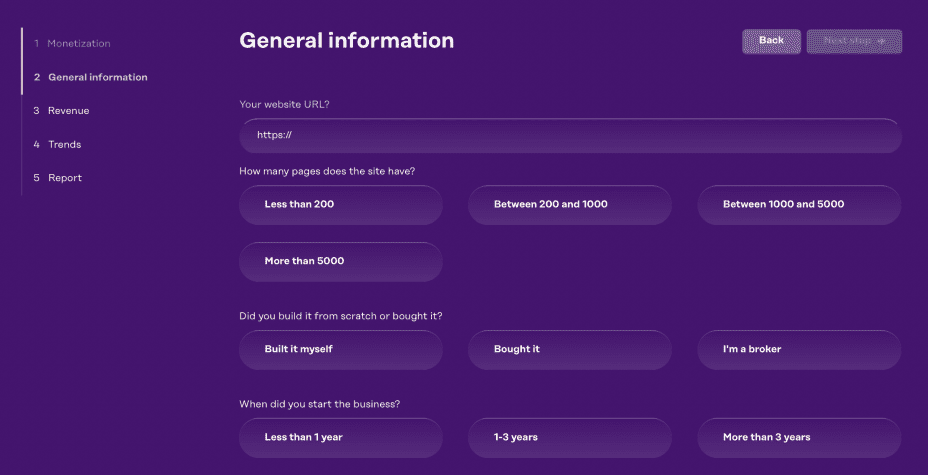 We're also going to need to know whether the niche is controversial (adult, gambling, hacking, drugs) and whether it's been hit by any penalties.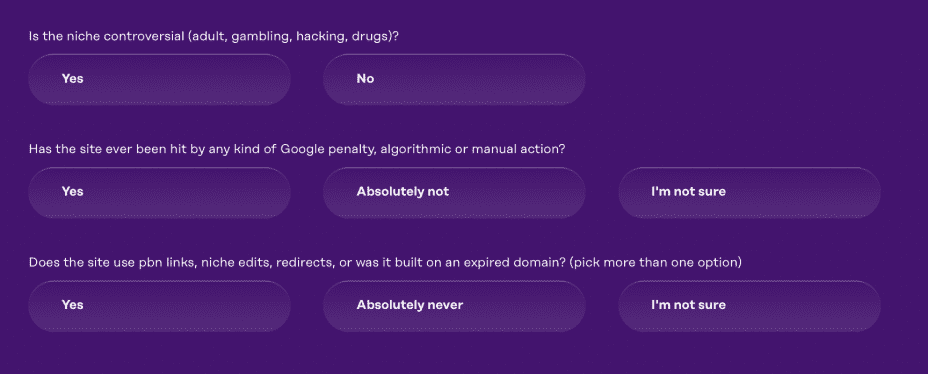 At this stage, you can also tell us whether the site is built on an expired domain or if it uses pbn links, niche edits, or redirects.
The information you supply here helps with the spam signals section of our due diligence reports and may affect your multiple which is used to determine your selling price.
All the information supplied is verified before a site is listed but for an accurate selling price try and be as exact as possible.
Step 3: Earnings
The health of both the traffic and financial profiles is going to have a big impact on a site's selling price and its desirability to potential buyers.
During step 3, you'll need to share the source of your traffic, whether it originates mostly in the US or not, and what the monthly average is.
You can also manually input both the gross monthly revenue and the monthly profit after expenses to give us an indication of the site's revenue capabilities.
Step 4: Trends
Lastly, we need to know whether the niche is seasonal (ie. traffic and therefore revenue fluctuates) and what direction both the traffic and revenue are trending in over the last 6 months.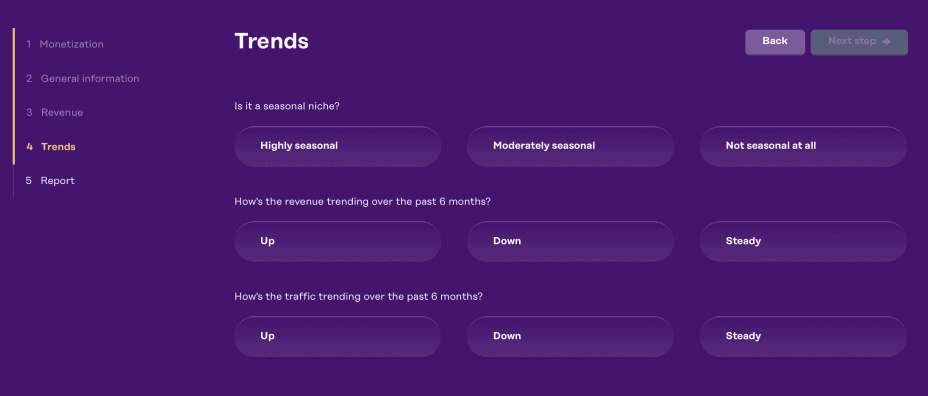 And that's it.
The Results
Once you've completed steps 1 to 4 you'll see a screen that looks something like this.

Here you'll find a link to the valuation report for you to refer back to, an estimated selling price range, and an idea of both our fees and what you'd be paying to sell on other sites.
Scroll down and you'll see how your site stacks up including our business ranking for it, the estimated multiple, and what you can expect to save by selling through Investors Club — it's more than you'd think. Sometimes even we're surprised…
A comparison table lets you see at a glance how our prices compare to others and everything that's included for free if you sell via our marketplace.
If you like what you see and you're ready to sell then you can continue on to our site listing service, answer a few more questions, and be on your way.
For more information about buying and selling with Investors Club, discover our platform guides and let us take the hassle out of website investing.