Investors Club is an exclusive members-only marketplace that works harder to help buyers and sellers profit. If you're looking to get started with website investing or have a portfolio you'd like to expand, Investors Club will save you time, money, and hassle on your next venture.
A membership with us gives you access to 100% exclusive listings, a pool of vetted buyers and sellers, and the most detailed due diligence reports in the industry. Sellers pay some of the lowest fees around and buyers pay nothing at all so everyone keeps more of their money by being part of our club.
Best of all, the legal documents are done for you and we offer no-fee transfer, inspection, and escrow service so you can be confident that your next investment will be ready to go in no time.
Getting started with Investors Club is so easy it almost doesn't warrant a whole post about it, but here goes…
Setting up an Account
It's free to register with Investors Club, all you need is your name, email address, and phone number.
Step #1:
From the home page, you'll need to head on over to the buy page: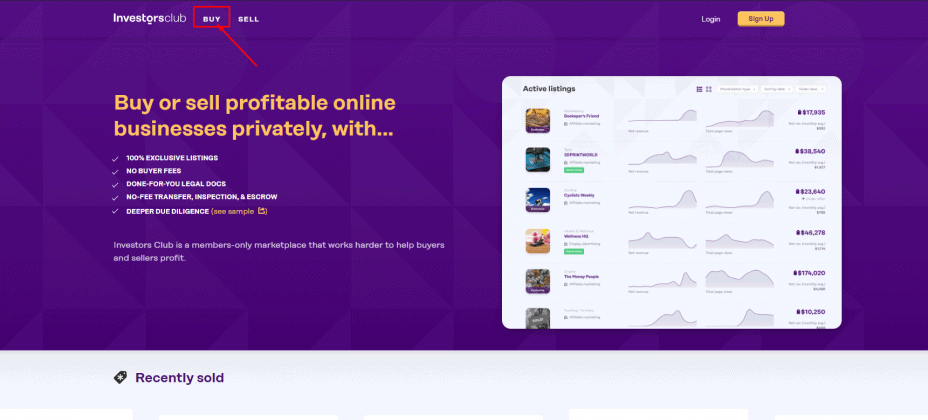 Step #2:
From here, simply click on "create a free account" as shown here: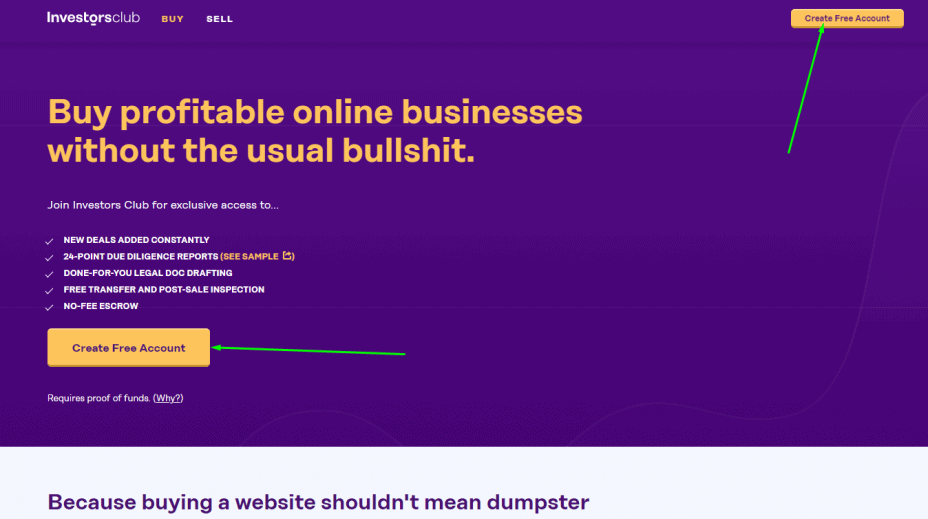 Step #3:
Once clicked, you'll be redirected to the registration page.
You can begin by simply stating whether you're looking to buy or wanting to sell. As this guide is specifically for setting up a buyer account, you need to select "I'm looking to buy".
Step #4:
Investors Club lists sites at all different price points. If you have a specific budget in mind, now's the time to tell us.
You'll still be able to see all the listings we have to offer in the marketplace but our email alerts will be tailored to your needs.
At this stage, you can also tell us what monetization methods you're looking for in a site too. You can choose as many options as you like and again, this just helps us to provide you with a more tailored experience.
Once you've made your selections, just hit next.
Step #5:
In order to gain full access to the marketplace, you're going to need to provide proof of funds.
Investors Club operates a pool of vetted buyers so our sellers know they're dealing with serious investors.
All you need to do is upload one or more bank statements showing a total balance of $10,000+ USD. (We also accept PayPal or crypto balances as long as the statements tie back to you, ie, your full name).
We don't take any personal information so please redact anything sensitive if necessary.
You can view an example of what we're after here.
Once uploaded, just click save and finish.
Accounts with proof of funds provided can take up to 24 hours to verify. It's usually much quicker than this but you can still browse redacted listings in the meantime.
Your membership in more detail
Investors Club currently offers 3 membership options: Approved Buyer, VIP, and VIP Lifetime.
Here's what's included with each membership:
Regular membership – it's free but requires proof of funds to be approved
We reveal the domain and basic business information
Full access to our cost-saving offerings such as no-fee escrow, done-for-you legal docs, etc
No access to our detailed due diligence reports
Access to listings 5+ days old
VIP – $249/year
Full access to our cost-saving offerings (no-fee escrow, DFY legal docs, etc)
Instant access to every new listing 5 days BEFORE regular members
Full access to our detailed due diligence reports
Bonus: Access to our private discord community (worth $297/yr)
Bonus: 20% discount on our Deals Concierge packages (saving you up to $1,400)
VIP Lifetime – $747 one-off payment
Everything included with the Approved Buyer and annual VIP membership 
Bonus: Early access to new products and services
By providing proof of funds you become an approved buyer as standard.
How to upgrade your account to VIP
Step #1:
If you didn't select VIP during sign-up and want to upgrade for full access then it's easy to do in your account settings by clicking on your name on the top right-hand corner of the page while logged in:
Step #2:
Just go to subscriptions and select "Subscribe Now".
Step #3:
You'll be redirected to the upgrade checkout page. Simply choose your membership, and complete payment.
Benefits of a VIP membership
VIP and VIP Lifetime memberships enable you to get the most from your experience with us and give you full access to everything Investors Club has to offer, including unlimited access to our due diligence reports.
Our team of expert analysts put together some of the most detailed reports in the industry to give you a full overview of a site, saving you time and money evaluating websites yourself!
You'll also be joining a community of investors and entrepreneurs who are actively acquiring online businesses and be invited to our private Discord chat.
Additionally, you get access to premium resources not available anywhere else, due diligence checklists, and more.
With Investors Club there are no unexpected surprises when you're actively pursuing deals because you have the support of the community at your fingertips.
Exploring the Investors Club Marketplace
The Investors Club marketplace was designed with members in mind. Buyers have the option of filtering by monetization type, date listed, or price to tailor listings to them.
At a glance, you can see the website's name, monetization style, type of site, a basic graph of both revenue and page views, and the asking price, along with average monthly net revenue.
If something catches your eye, you can click on each listing to discover more.
Listings give you access to the site's URL (only for approved buyers and above), the seller's information (including why they're selling), the financial overview, traffic overview, and general site information.
VIP members also get access to an interview with the seller, information on the sources of revenue and our detailed due diligence report.
Within the report, you'll find a business analysis (including risk and competitive), in-depth SEO, content, and traffic analysis reports as well as the site's history including spam signals, Google penalties, link profile health, and more.  
Deals Concierge
If you're not sure what to look for or don't have the time to go through listings yourself, you might be interested in our Deals Concierge service.
An end-to-end managed service, we can privately source 3-5 deals that fit the size, niche, and monetization options you're after. If you don't find a deal you like we'll give you a full refund. 
As part of the service, if you decide to make an offer we'll take care of everything including offering a free post-purchase site inspection and training for the new site if necessary.
To discover more about this service just head to the Deals Concierge tab in your account (only available once account is approved). 
To find out more about buying and selling with Investors Club head over to the blog.