Investors Club offers the most detailed due diligence reports in the industry, giving our members peace of mind over their next investment.
A crucial step before investing in a website, carrying out due diligence will help determine if a site is the right choice for you.
But thorough due diligence takes time and if you don't have hours a day to dedicate to research then you could be left sitting on some bad investments, or not making any purchases at all.
Luckily, our team of expert business analysts have all the time in the world to dig through Google Analytics data, financial statements, and business information to bring you a complete overview of every listing in our marketplace.
You can view a sample report here and in this blog post, we're going to break down each section of a content site due diligence report (e-commerce listings have slightly different sections) and discover how you can get the most out of it. 
But first, for full access to our 24 point reports that cover everything from financial and traffic analysis to link profile health, in-depth SEO reports, and more you'll need to be signed up for our premium membership program.
If you're not already, just go to your Investors Club profile, select subscriptions, and sign-up to enjoy exclusive member benefits such as discounts on our Deals Concierge service, complete due diligence reports, instant access to new listings, and exclusive member discounts on new products and services.
Ready? Let's dive in.
Business Summary
The first thing you'll see on any of our exclusive listings is a short business summary.
If you're a Premium member you'll have access to the site's URL so you can visit it for yourself.
Here you'll also see the site's age, asking price, average monthly net revenue, monetization method, business type, and the all-important multiple.
In addition, you'll find a short description of the site along with a brief history, any additional assets included in the asking price, the seller's information (for Premium members), and why the site is for sale.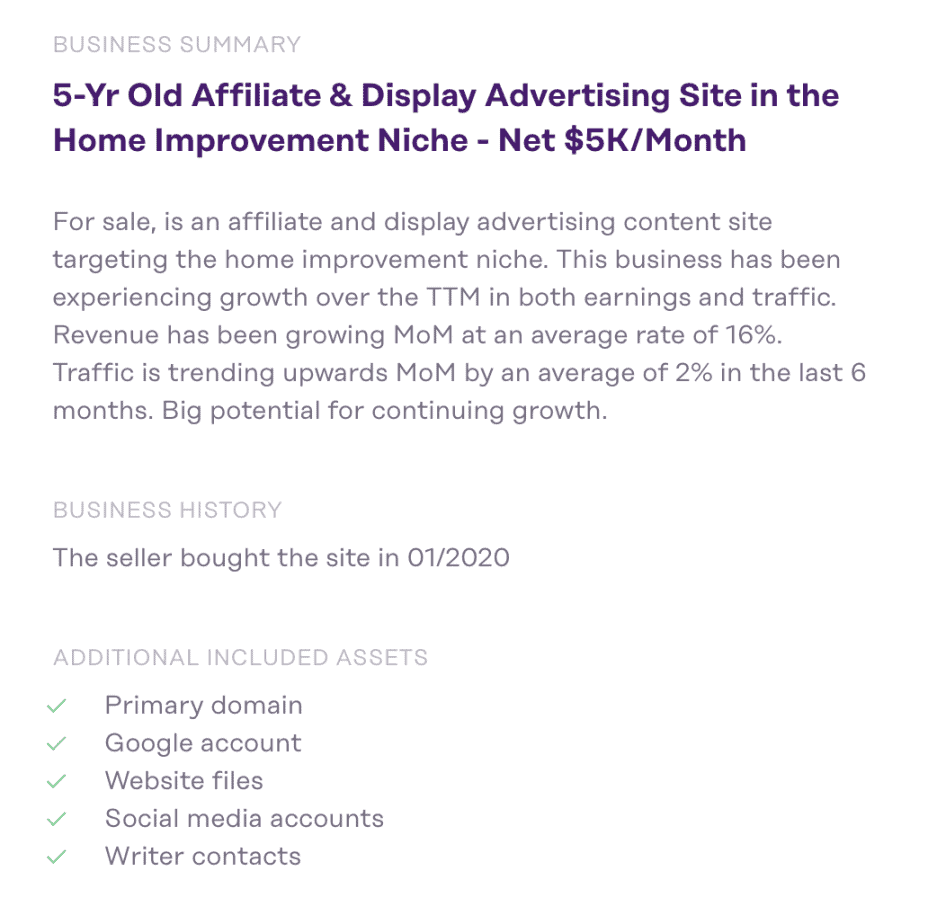 Premium members can also download a detailed interview with the seller to find out more.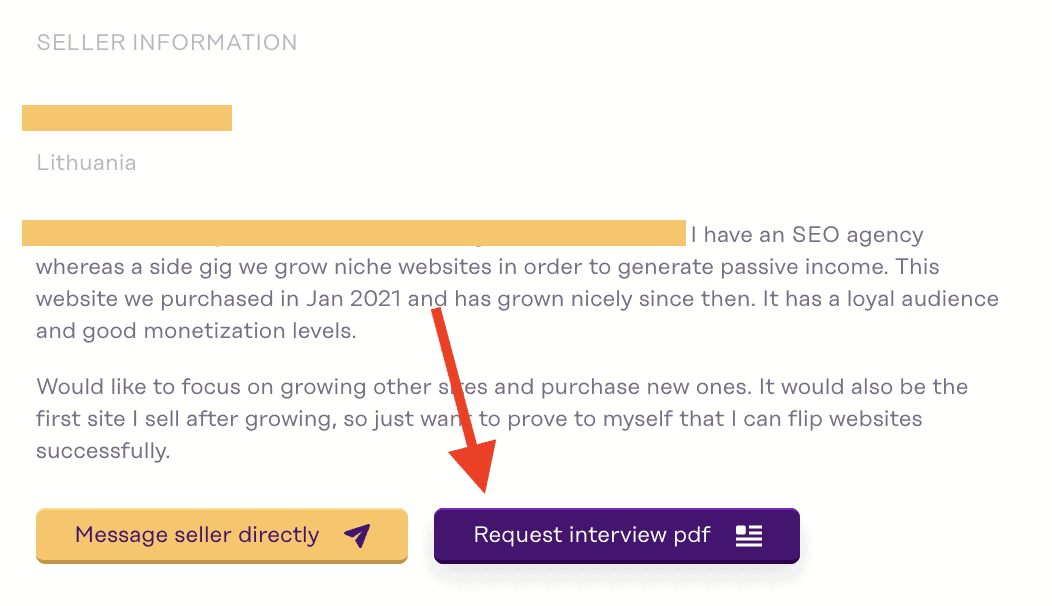 A website-at-a-glance overview, it provides good surface-level comparison data for quickly judging sites.
All the listings on Investors Club are carefully vetted to ensure each site is genuine and the information supplied is correct removing the potential for spam sites.
For peace of mind, listings come with stickers indicating which elements have been authenticated, as shown above. If you see green you can rest assured that the site you see will be the site you buy.
Financial Overview
The first main section of each listing is the financial overview. Here you'll find details of the financials for the last 6-12 months including gross revenue, expenses, and applicable profit.
Available to view as both a graph or a table depending on your preference, all the information has been carefully vetted by our team of analysts.
Underneath the graph, you'll find the sources of revenue and if the site has multiple streams you'll see the percentage breakdown of each method (the smaller number shown above).
From this data, you can quickly see the trending direction of revenue and establish the MoM growth or decline that the website experiences, and spot any seasonal fluctuations that may occur.
Traffic Overview
Next up is an overview of the traffic data pulled directly from the seller's Google Analytics. Updated weekly while the listing remains live and 100% verified, there are no nasty surprises.
Within the graph or table, you can compare data over set periods or custom time frames and select what data sets you're interested in for a complete picture of the site's traffic.
Options include:
Total pageviews
Unique pageviews
Total users
New users
Top pages
Top channels
Organic landing page
Top countries
Devices
NB: As the data is updated weekly it can sometimes look like the traffic has plummeted for the most recent month. More often than not this is because the data is still rolling in and shouldn't be a cause for concern. Just change the end period filter to the previous month if you only want to see data for complete months.
Business Analysis – exclusive to Premium members
The first element of our due diligence reports that only Premium members have access to, the Business Analysis section covers critical business points that would-be investors should know about the site.
It's broken down into 5 sections:
1. Niche analysis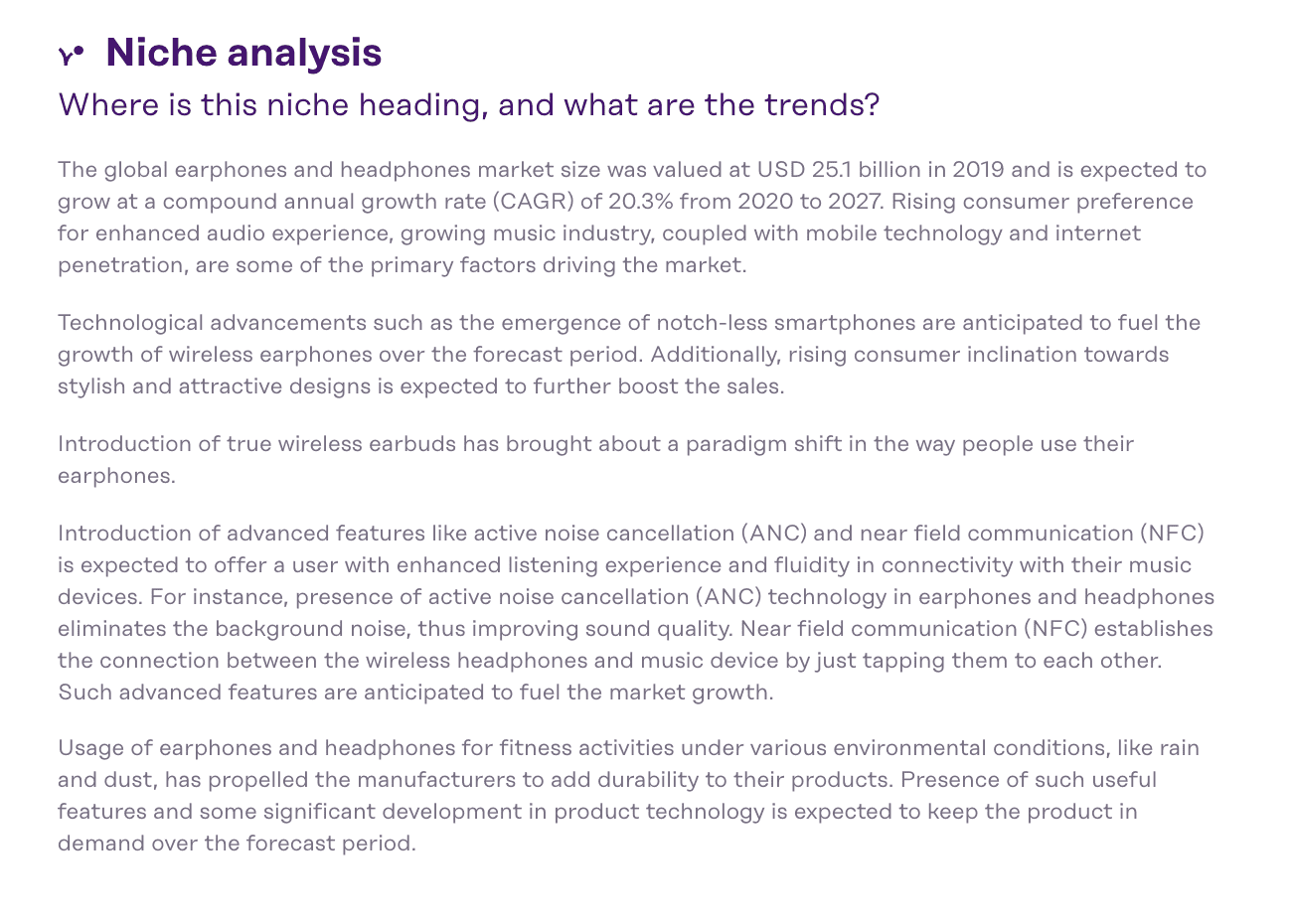 2. Competitive analysis
3. Risk analysis

4. Growth analysis
5. Workload analysis

If you're looking for passive income and don't want to run the site yourself, our partner service Buzz Logic can manage everything for you. It's perfect for when you like the look of a site but the workload analysis comes out more involved than you were hoping.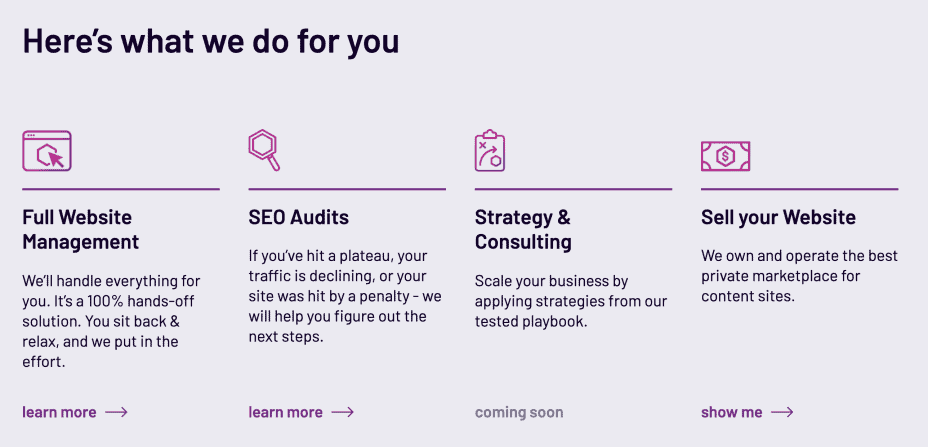 And the best news? Clients usually see substantial revenue growth in just the first two months.
Lastly in the Premium member-exclusive Business Analysis section is the site's earning potential. Here you'll see how current earnings measure up against the potential for future earnings if small changes are made.
Changes could include, but aren't limited to:
Those identified in the growth analysis report above
Steps taken to improve conversion rates
Diversifying monetization methods
This last piece of analysis is an excellent indicator of potential returns and one any investor looking for ROI should look at.
As with any investment though, past performance isn't a guarantee of future success.
Site Information
As part of the detailed due diligence completed on each listing, we look at the domain strength and how the site is perceived by both search engines and users.
Broken down into easy to understand marks out of a 100, here's what each metric tracks:
Domain Rating – the link popularity of the site compared to other websites in the world (a metric designed by Ahrefs)
Domain Authority – predicts how well a website will rank in SERPs (ranking score developed by Moz)
Trust Flow – predicts how trustworthy a site is based on how many trustworthy sites link to it (metric developed by Majestic SEO)
Citation Flow – predicts how influential a URL might be based on how many sites link to it (a metric developed by Majestic SEO)
Linking Root Domains – the number of domains that link to the site
Indexed Pages – how many site pages have been indexed by Google
Ideally, you want high numbers here as it indicates a trustworthy website that ranks favorably in SERPs.
The only exception might be the indexed pages as too many could suggest mostly automated content and a lack of solid SEO. View this data in parallel to the rest of the report to get the full picture.
Spam Signals – exclusive to Premium members
Forming part of the site information section, Investors Club's report goes deeper into potential spam signals.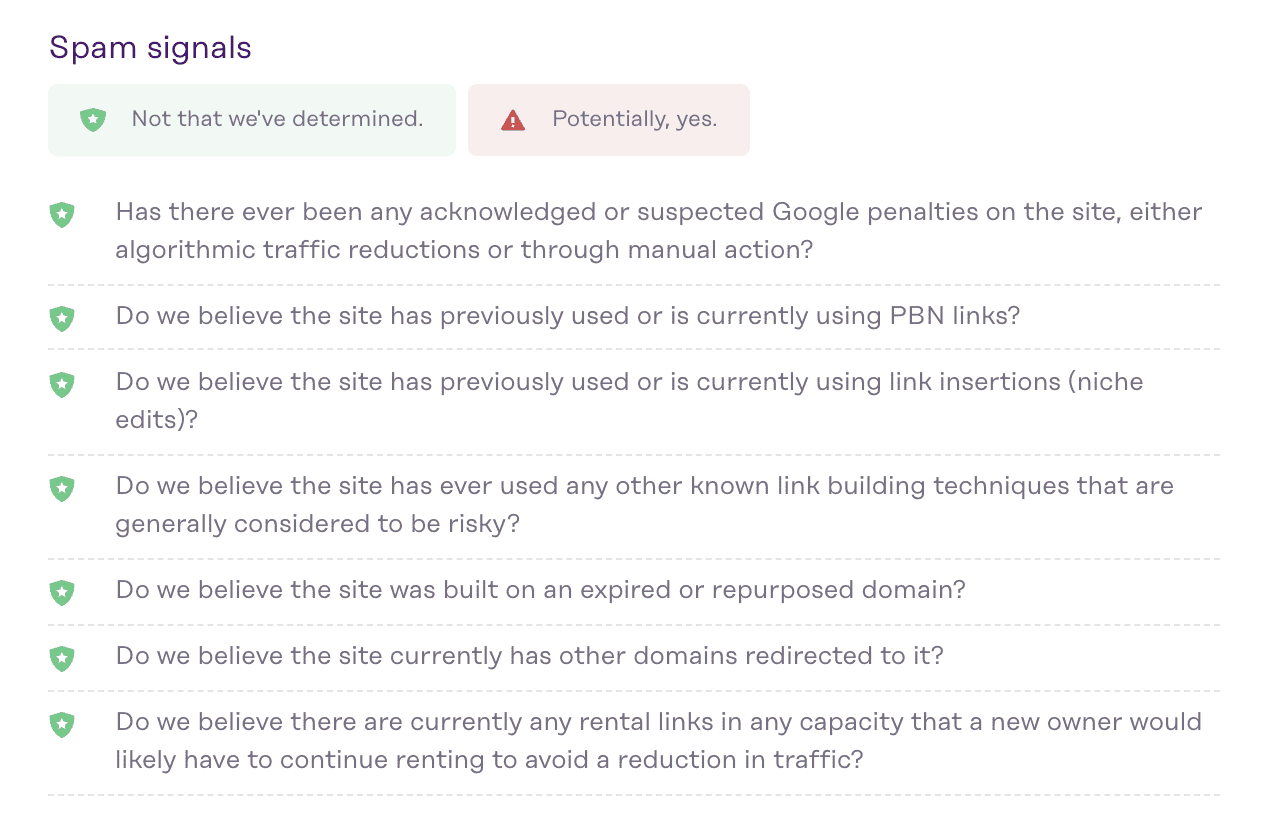 This section of the due diligence report is important as it highlights any potential issues with the site that our team of analysts has identified.
Here you'll find out if there have been any issues with Google penalties, questionable link-building techniques, domain issues, and more.
You're also able to access the Wayback history showing how the site has evolved over time and the tech stack which covers everything that's powering the site eg. hosting, domain registrar, etc.
Content Analysis
Finally, there are our three in-depth reports detailing SEO, content, and traffic analysis.
As part of the listing, you'll see a brief overview of our findings and a score out of 5 for each. The detailed reports can then be opened separately by clicking the 'download report' buttons for more in-depth information.
SEO analysis report
A 5-page report, the SEO analysis gives a comprehensive overview of the site's onsite and offsite SEO, including:
Domain metrics
Spam signals
Site scan results (title tags, images, broken links, etc)
Page speed and mobile-friendliness scores
CTA analysis
Backlink profile analysis vs competitors
It's exclusive to VIP members and downloadable for ultimate convenience via the listing. Above is a sample of the type of information you can expect from the report.
Content analysis report
The content analysis report gives more information on the site's content including the number of pages, word count, and the types of articles published.
The 3 highest-trafficked pages and 2 random pages are evaluated as part of the report and data is measured against our evaluation matrix (as shown in the image above).
Expect to see analysis on :
Author authority
Outbound links (trustworthy and authoritative)
Use of filler words
Word counts
Plagiarism
Quality of media
& more…
Traffic analysis report
The last of our reports analyses the traffic data in more detail. Here you'll find details on:
Previous 12 months traffic data
12-month averages (pages per session, average session duration, bounce rate)
Traffic sources (countries and channels)
Device type
Gender
Age of users
List of most trafficked pages, top keywords, and current position
Various metrics measured against our evaluation matrix
Note: the SEO analysis report is exclusive to Premium members but everyone has access to the content and traffic analysis reports.
Ask the Seller – exclusive to Premium members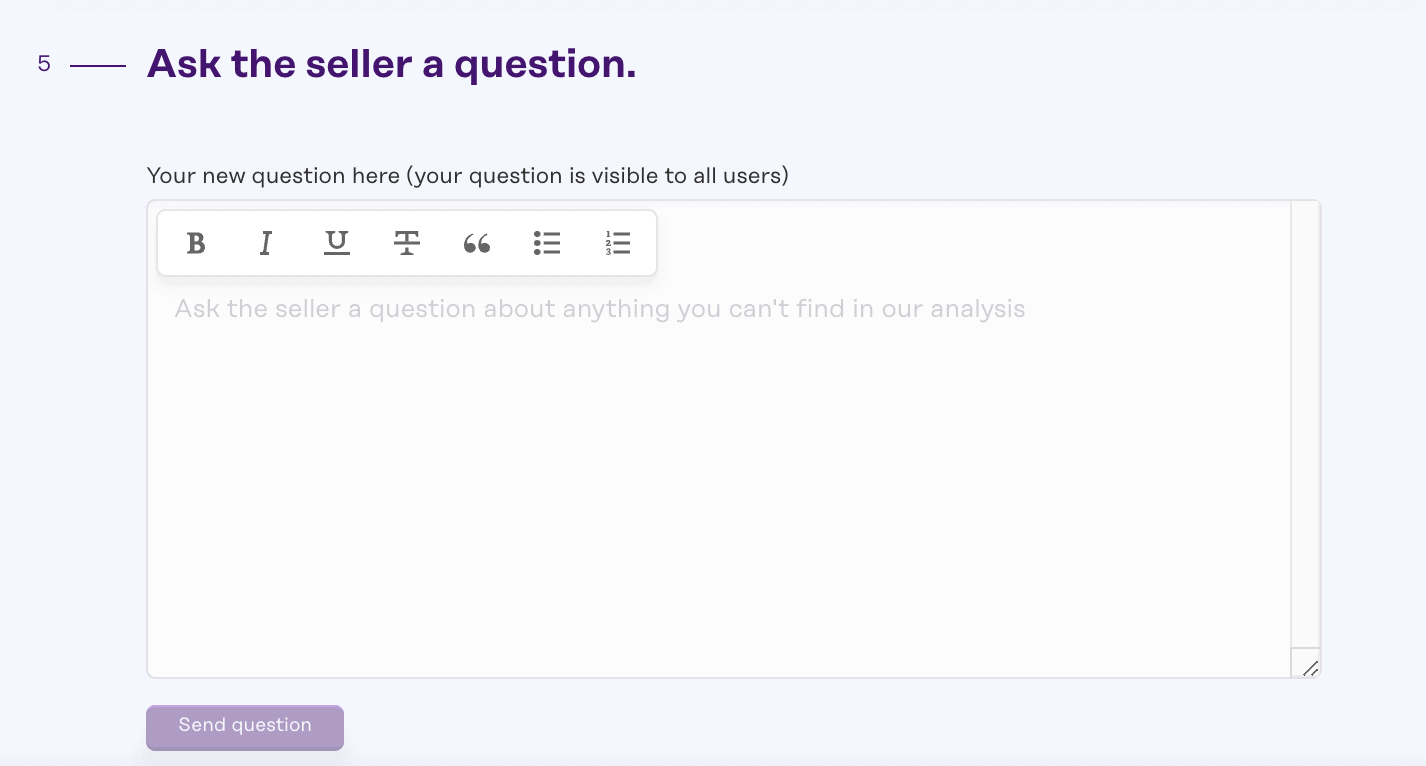 Not strictly part of the due diligence report but worth mentioning nonetheless, at the bottom of each listing is the 'Ask the seller' section.
Investors have the option to ask the seller a question or read through questions asked by other members to learn more about the site. You can also message the seller privately if you have a question that you'd rather other potential investors don't see.
Side note: If you want to make an offer below the asking price, privately messaging the seller to explain why you think the site is worth that and opening up a discussion is a good idea.
And that's it!

Investors Club offers the most detailed due diligence reports in the industry to take the time and guesswork out of website investing. Browse the latest listings in our marketplace and discover your next investment opportunity today.